If you are regularly on your Laptop or computer, you may across software by the name of Akamai NetSession.
Don't worry, if you are not familiar with the Akamai NetSession Interface & Client,
We are going to talk all about Akamai NetSession in this article including its description, features, uses, step by step guide to uninstall it if you are looking to delete it. Now firstly I know that many of you are thinking:
What is Akamai NetSession Interface?
(It's not an anime lead character name if you were thinking just in case…)
Akamai NetSession Interface is a simplistic download manager for your computer that speeds up your download process while downloading anything on your computer like documents, files, presentations, photos, etc.
The Akamai NetSession Interface enhances your download speed as well as the quality of any media file that you download from the Internet.
To give you a little context about the organization:- The company Akamai helps several companies all over the world offload their data on Akamai servers for better functioning and safety of their website. Due to Akamai servers spanning almost the whole globe, it makes it very easy for customers in any part of the world to access websites.
It also prevents overcrowding of websites due to excessive traffic and breaking down or having very long load screens. Apart from that it also offers very secure protection to the websites and data and prevents hackers from meddling.
NASA also is a customer of Akamai services.
Coming back to Akamai NetSession Interface.
There is a big probability that if you are downloading some document, pdf, or media file, then you are probably downloading it from a peer-to-peer network hosted by Akamai.
To explain simply, it uses your residual bandwidth to connect it to other people's computers who use Akamai NetSession and download the file from their computer while it acts as a server.
This makes it extremely convenient for fast and reliable downloading of files especially if you're in a hurry or have to download a large batch of files.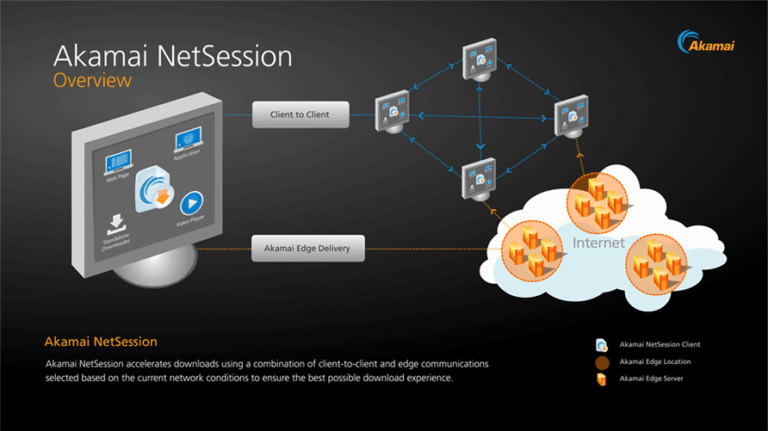 Is Akamai NetSession Safe?
Your computer's firewall or windows defender may label akamai NetSession as a threat or any other kind of virus but do not worry as these claims are completely false. If you are wondering if it's safe for your computer then we assure you that Akamai NetSession Interface is not any kind of Spyware, malware, virus, or Trojanware.
It does not hurt or damage your computer or files in any manner whatsoever. It's completely safe for anyone to download and they can download it from the official Akamai website for their Windows and Macintosh devices.
Whom is the Akamai NetSession interface built for and who can use it?
Being a download manager, anyone from individuals to big organizations can make use of Akamai NetSession Interface. It imparts you significantly better download speeds and more importantly a stable Internet connection for a flawless experience without any interruptions.
Features of the Akamai NetSession interface
i) The Akamai NetSession provides you significantly better download speeds and a much more stable Internet connection.
ii) The download manager offers you reliable downloads of documents, photos, videos, and files.
iii) The Akamai NetSession is completely devoid of any Malware, Ransomware, Spyware, or any other software that could damage your computer in any manner.
iv) The Akamai NetSession interface is extremely secure and even supports SSL or Secure Sockets Layer security protocol. (you probably don't know what this means,……..me too 😉
v) The extensively wide server network of Akamai makes it very easy for files to be downloaded in any part of the world at great speeds.
vi) Last but not least,
Akamai NetSession Interface does not read any private data of yours nor leaks it to any server or any other computer in the world.
Is it necessary to have Akamai NetSession Interface on your Computer to Download Files?
The simplest two-letter answer is NO.
It is nowhere essential, mandatory, or necessary to download the Akamai NetSession interface on your computer to download any file of any kind from the Internet.
You could go about your normal functioning without any interruptions. (except maybe a few slow downloads)
The Akamai NetSession is an entirely voluntary software that boosts your download speed and offers you reliable downloads and a stable Internet while surfing the web.
(an unrelated interesting fact – the term 'Surfing the Internet' was coined in 1992 by a librarian who got the inspiration from surfers going from one wave to another much like people browsing one Web page after another)
How to install Akamai NetSession?
i) You simply open your web browser; search the Akamai NetSession Interface and open the official website.
ii) Choose your operating system – Windows / Macintosh and let it download.
iii) Open the setup and navigate through the on-screen prompts and voilà, you are done and ready for some high-speed downloads.
How to uninstall Akamai NetSession Interface from your Computer?
If after everything, you've decided that you want to uninstall the Akamai NetSession Interface then follow the step by step guide below:
Method  1:- Uninstalling Akamai NetSession Client using Uninstaller Program
Here is the tutorial which will help you uninstall Akamai NetSession in Windows using the Uninstaller Program.
Device:- Windows Machines
i) Firstly, Open the Windows Control Panel from your start button.
ii) In the control panel section click on the 'Add or Remove Programs Tool' to open the window.
iii) Search or find the Akamai NetSession Interface and select it and right-click on it.
iv) That will pop the 'Change/Remove' button click on it and continue.
v) Click on the 'Yes' option when your computer asks for permission to uninstall Akamai NetSession.
vi) Now simply follow on-screen prompts, it will take merely five minutes and after that, you are done, your computer's free of the Akamai NetSession Interface.
Note: Your computer may need a reboot to properly display all changes.
Device:- Mac Machines
If you are using a Macintosh device, then these steps below are for you:
i) Firstly, open up the 'Finder Tool' on your computer.
ii) Now search for Akamai NetSession Interface.
iii) Once you have searched for Akamai NetSession go to the root folder which is containing the files it.
iv) Now after you find the uninstaller app along with other files — just double tap on the uninstaller app.
v) Follow the on-screen prompts, wait for a few minutes to complete the uninstallation process and you're done.
There's also a facility where you could uninstall Akamai NetSession Interface from your command prompt:-
Method 2:- Uninstall Akamai NetSession using Command Prompt
Here is the tutorial which will help you uninstall Akamai NetSession in Windows using the Command Prompt.
Device:- Windows Machines
i) Press the Windows Key and click on the Search Bar. You can also press 'Ctrl + F' and open the find bar.
ii) Type 'Command Prompt' or 'CMD' in the search box and press enter.
iii) You can see the command prompt application, open it (it'll automatically open if search it from the find tool)
iv) Browse to the Akamai NetSession client installer folder using DOS commands.
v) In case you're not familiar with the DOS commands, we have mentioned it here:-
Cd Users\<user-name>\AppData\Local\Akamai
Note: Make sure that you hit the enter button after each line and remember to change <username> with your account user name(the name of the account you've correctly opened).
(this feature will give you full hacker feels tho)
vi) Now, type "admintool.exe uninstall-force" without the quotes and hit the Enter button again.
vii) It will take a few seconds to uninstall the Akamai tool from your computer.
Device:- Mac Machines
i) First, open the Applications and then, open the Utility Folder.
ii) Now double left-click on the Terminal and go to the Akamai NetSession installation folder using the Terminal. It will be located at ~ /Application/Akamai
iii) Once you're in the terminal, type the following command, and press Return key/admintool uninstall -force.
iv) Wait until the process is completed.
That's it you have successfully uninstalled the Akamai NetSession Client tool from your computer.
The Conclusion:
So, this was in our opinion, the complete guide to Akamai NetSession Interface, its features, its benefits, and everything else that you needed to know.
We hope that you benefitted from this article.
Frequently Asked Questions?
Q.1. Is Akamai NetSession Safe?
A.1. Yes! The Akamai NetSession Interface is entirely safe and doesn't contain any spyware, adware or any type of viruses. Even the Akamai NetSession doesn't keeps your personal information saved.
Q.2. Should you remove the Akamai NetSession client interface?
A.2. Let us clear the thing that Akamai NetSession is not at all a system file. It's just an add-on to boost your downloads and streams from Akamai and other platforms.
Q.3. How Akamai NetSession Client gets installed on your PC?
A.3. Akamai NetSession is basically installed on your PC as it comes with a bundle of other software or programs.