PDF is indeed the most common document format available for businesses due to its capacity to store the same formatting regardless of operating functionality and hardware. And at times, there is an urgency to edit the PDF format by adding text, images, graphics, signing your name, filling out forms, etc. Finding a free PDF editor that fulfils all your needs is, therefore, not an easy task. So, we've handpicked some of the best free PDF editors for 2020 if you're searching for the one with lots of features.
You may also like to read about: Best Websites To Watch Hindi Movies Online
Best Free PDF Editors
Smallpdf is the most suitable and easy to use PDF editor that permits the users to change over records to and from PDF format, compress, split, and combine PDFs, apart from editing the PDFs. It allows the users to make use of these features effortlessly in a browser. It also gives the option to download the browser extension or desktop version.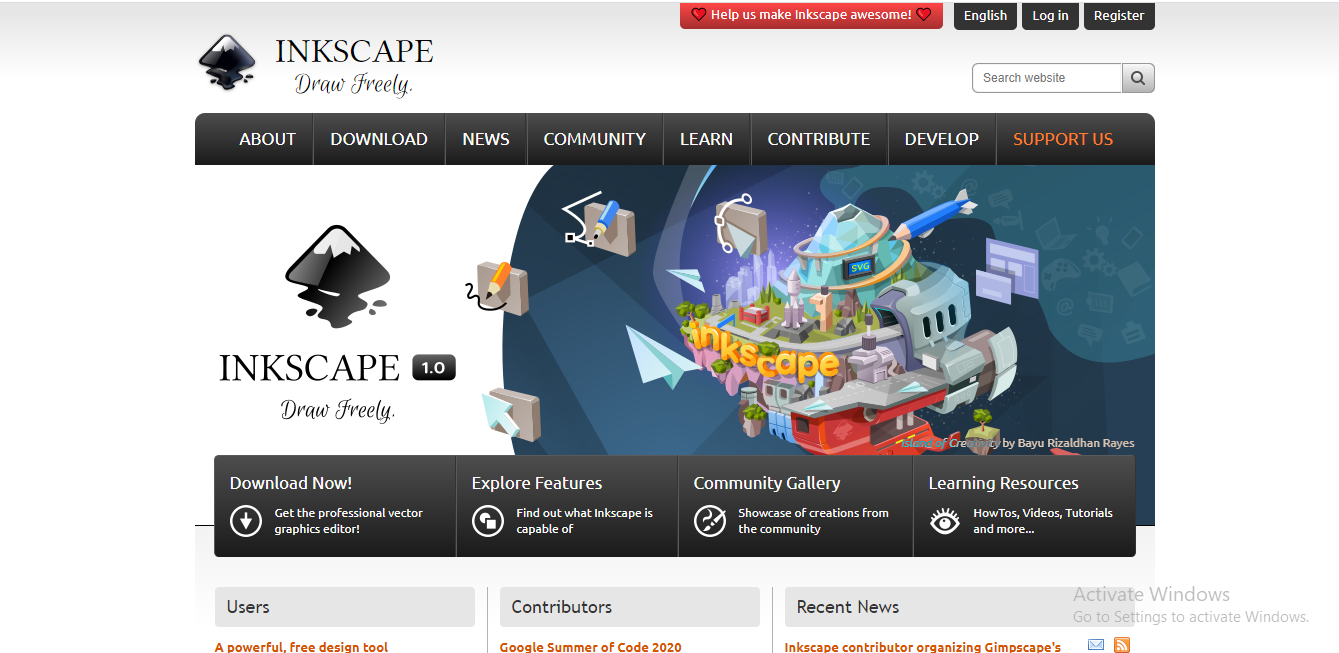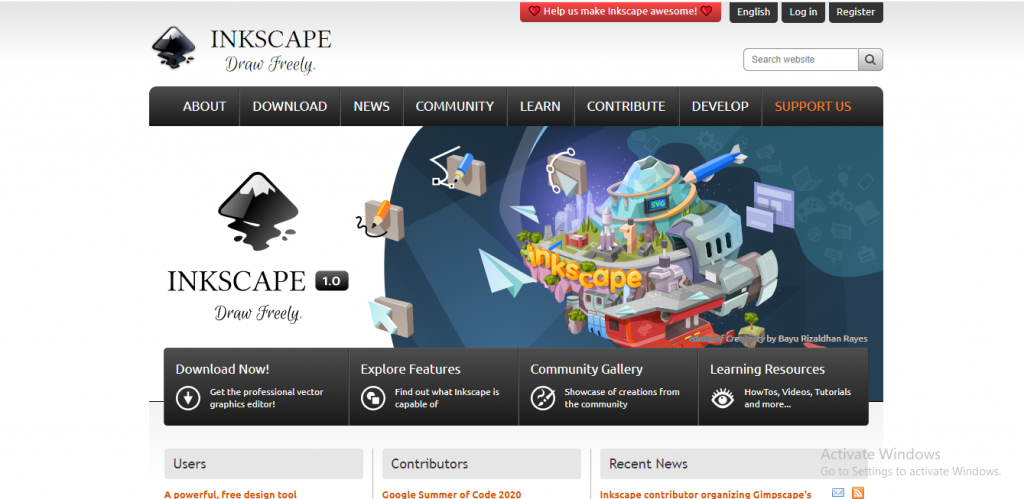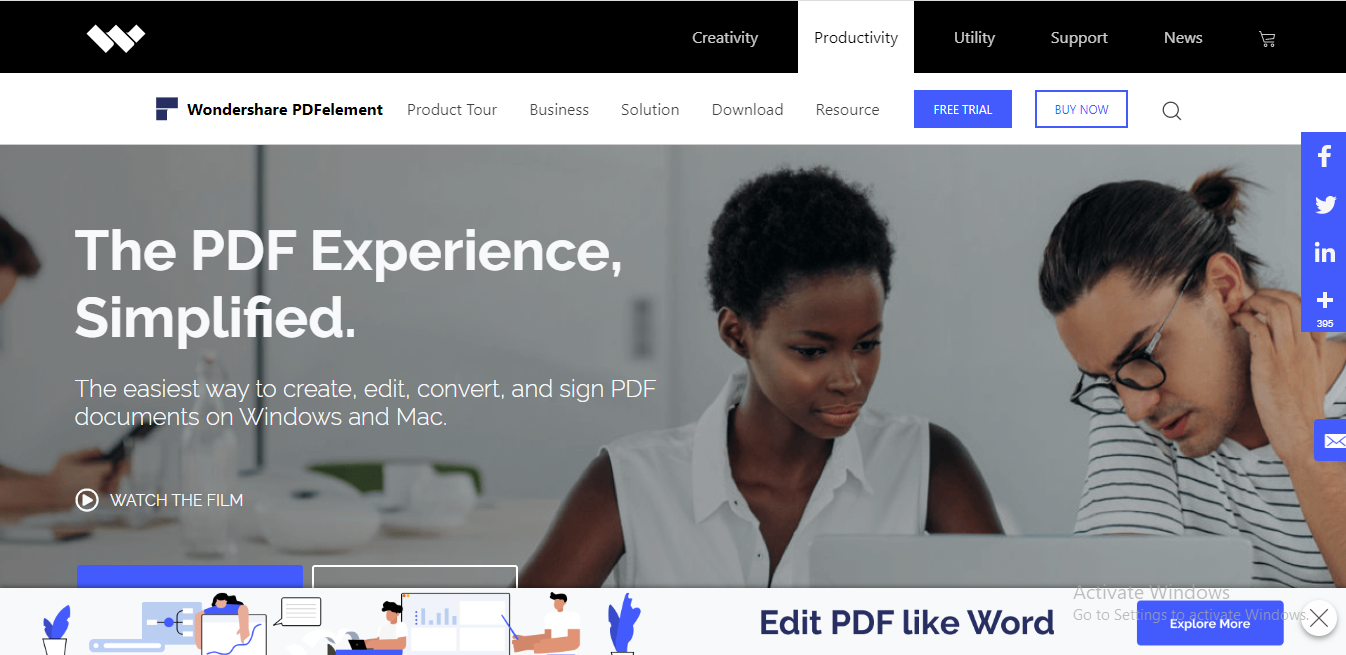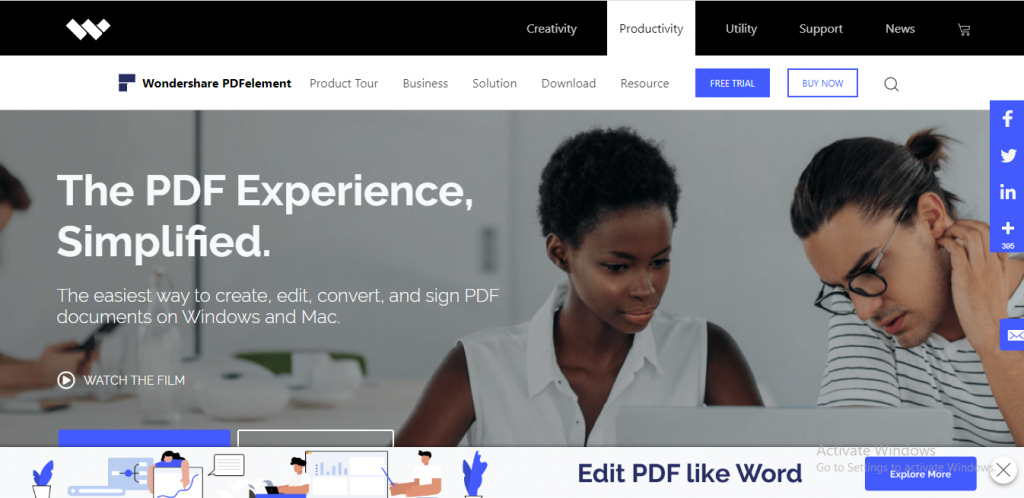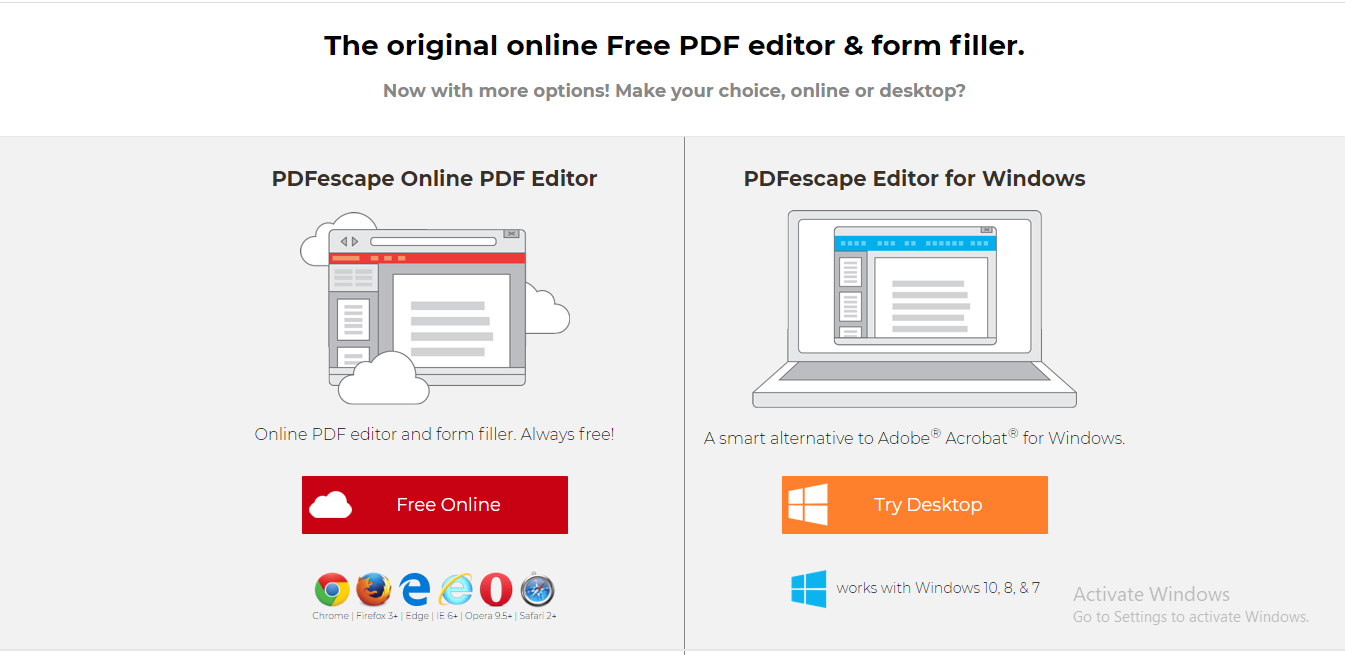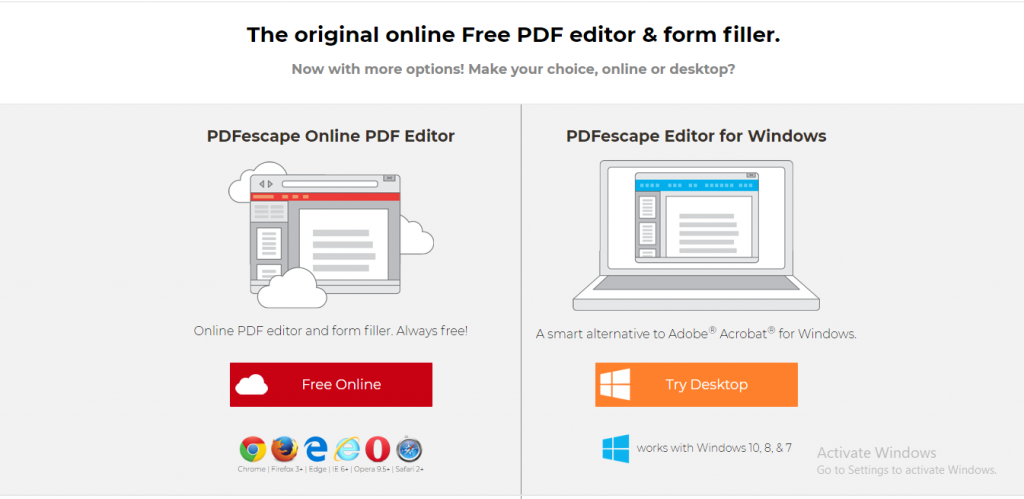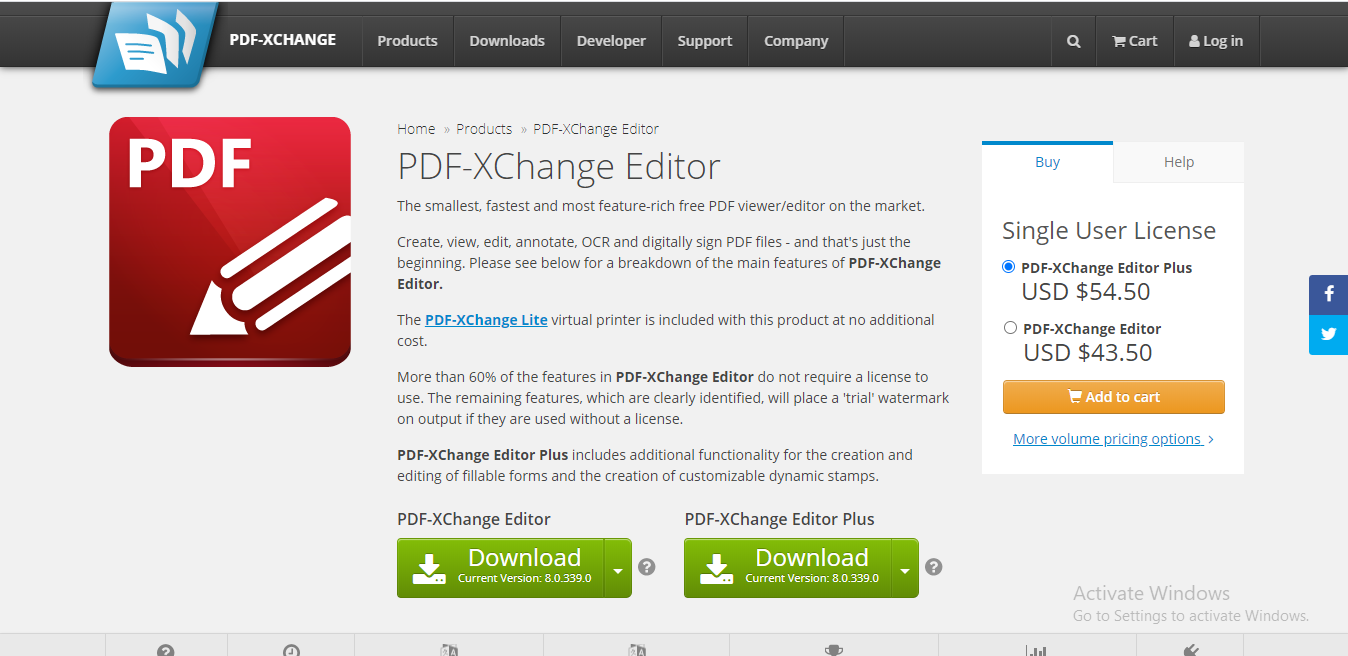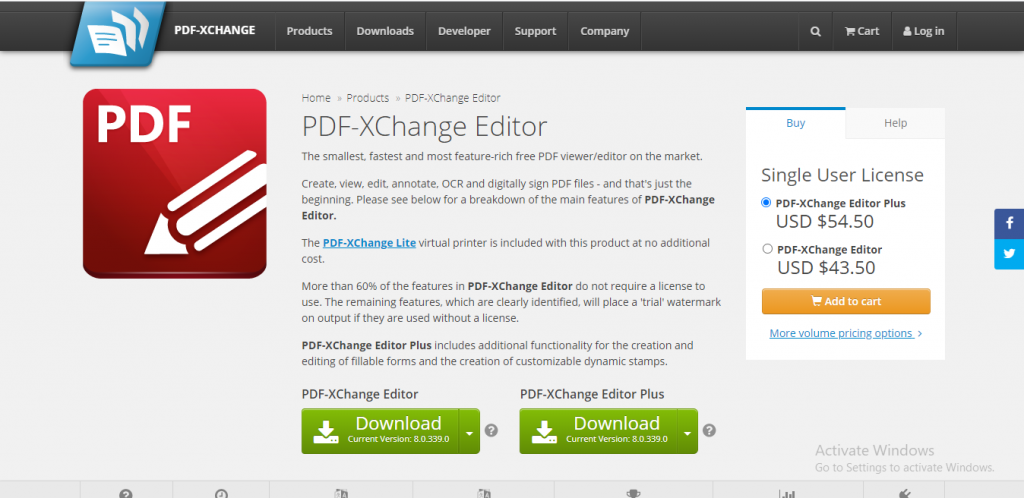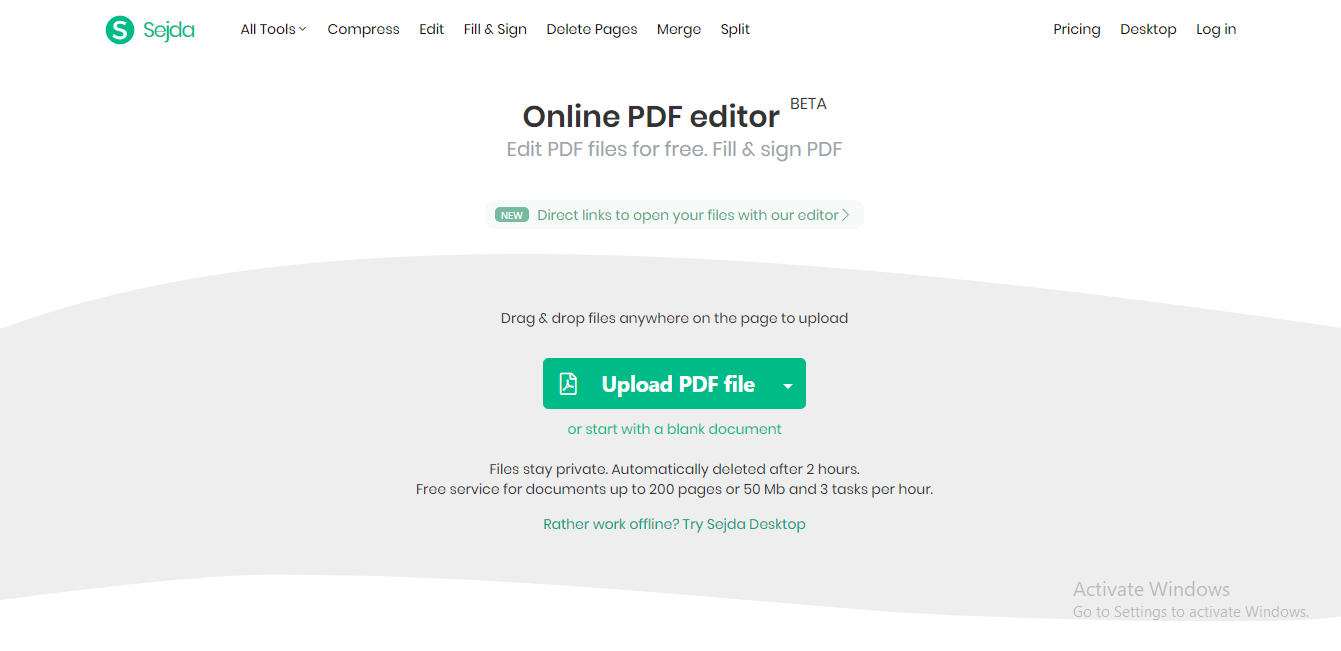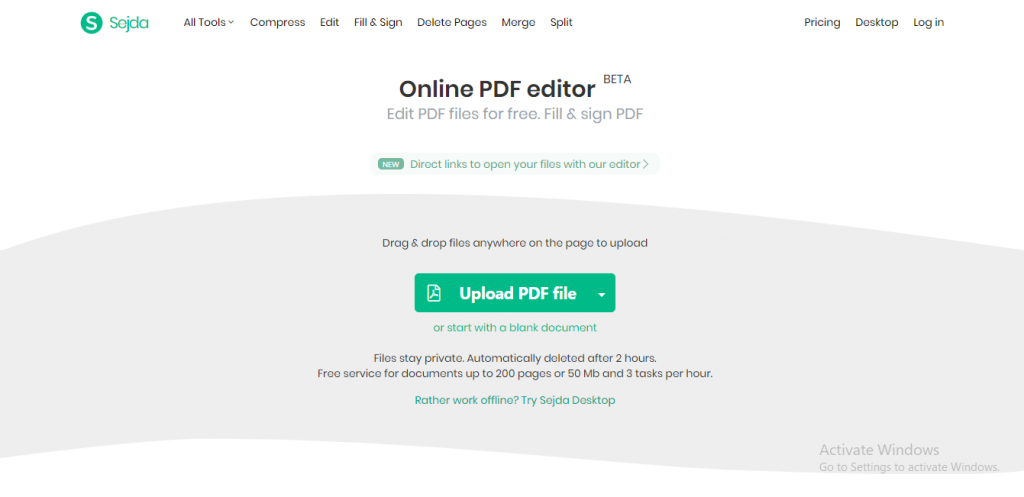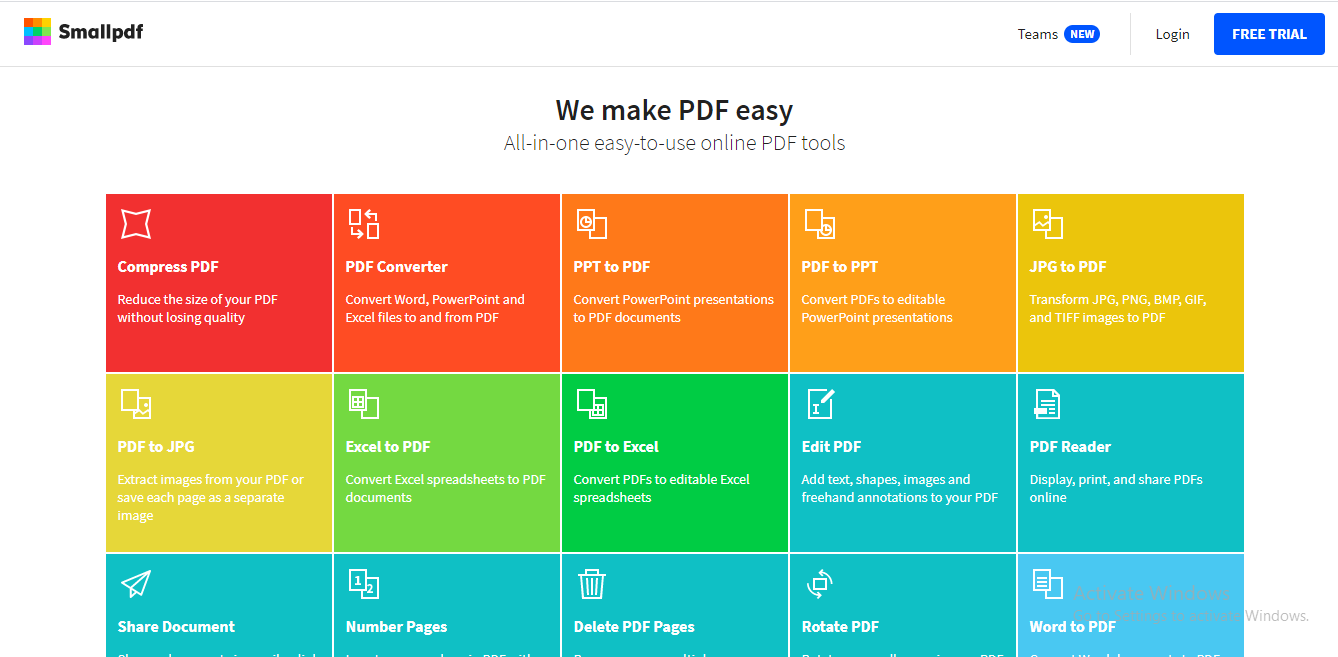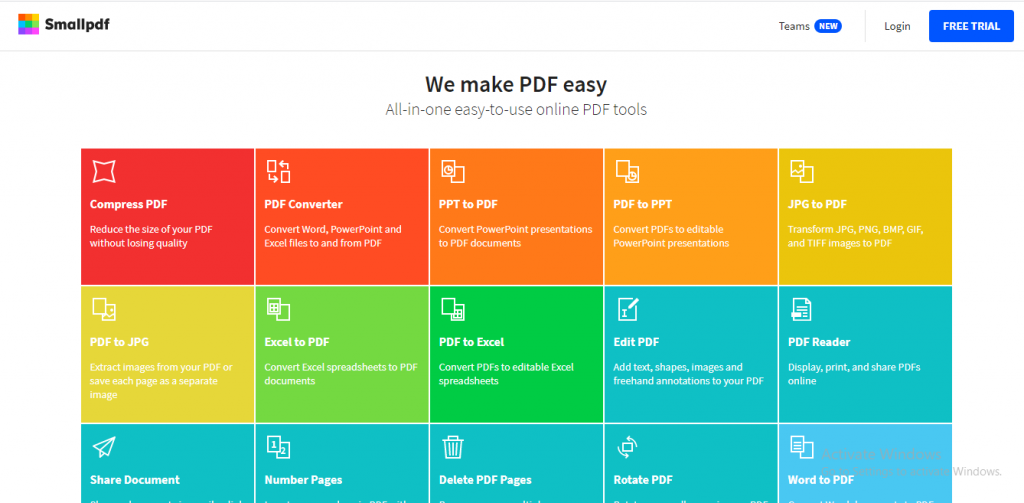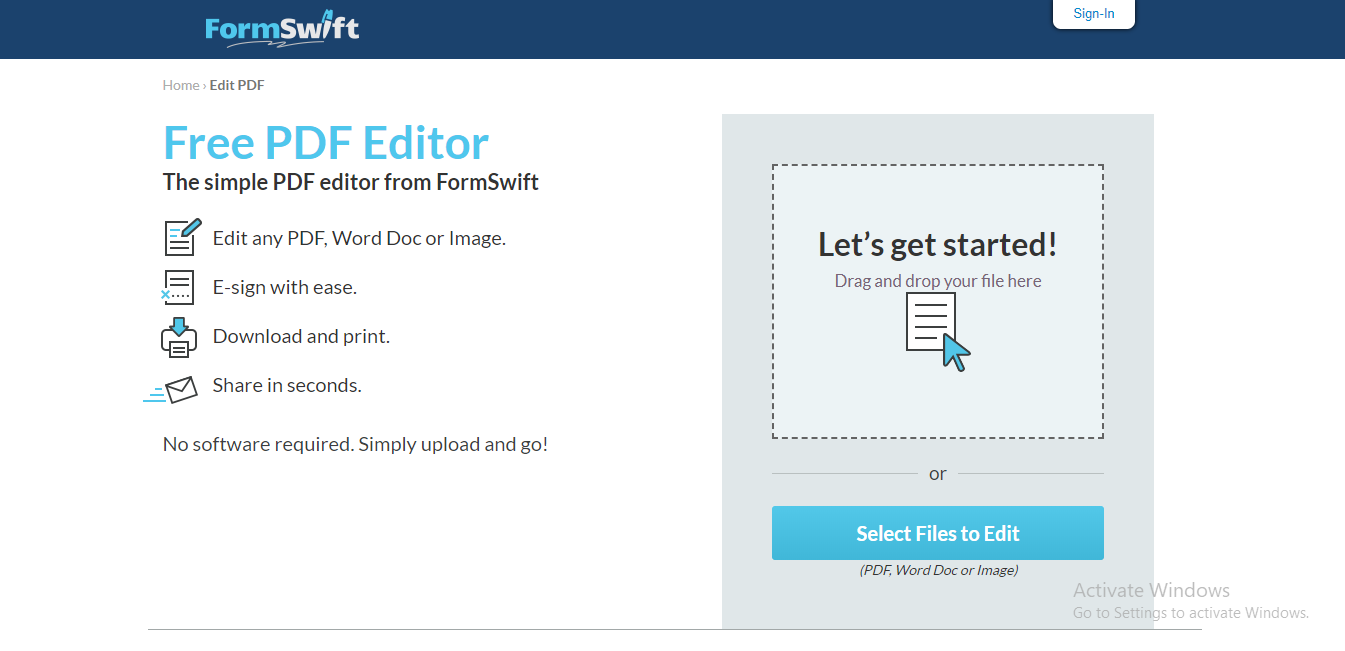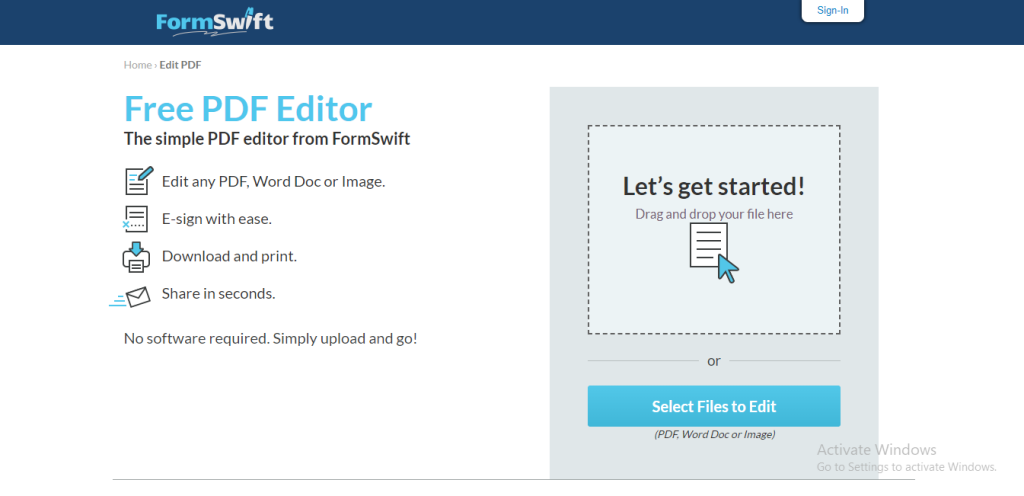 Features:
Instantly add text and fill out the PDF forms

Enable importing the file from PC, Dropbox, or Google Drive to the toolbox 

Allows adding of various shapes and drawings to the PDF

Enables electronic signatures

Supports compressing, converting, splitting, merging, and editing PDF

Compatible with Windows, Linux and Mac devices
Pros:
Allows adding of additional text to the PDF

Can put white space over the area you want to erase

Easy to use tool supported with directions

Ensures 100% safety of the data

Supports about 24 languages

Supports various sources of web browsers: Chrome, IE, Firefox or Safari
Cons:
Do not edit the pre-existing text

Limited editing options
Sejda PDF Editor is one of the exceptionally few online PDF editing tools that really let you alter the existing content within the PDF and that too without adding a watermark. It comes with features like editing & signing PDF format, filling PDF files, editing and adding text, including pictures to PDF, and even making links in PDF. It also facilitates picking PDF files from Dropbox and Google Drive. Moreover, this PDF editor simply deletes the uploaded files from its server after two hours.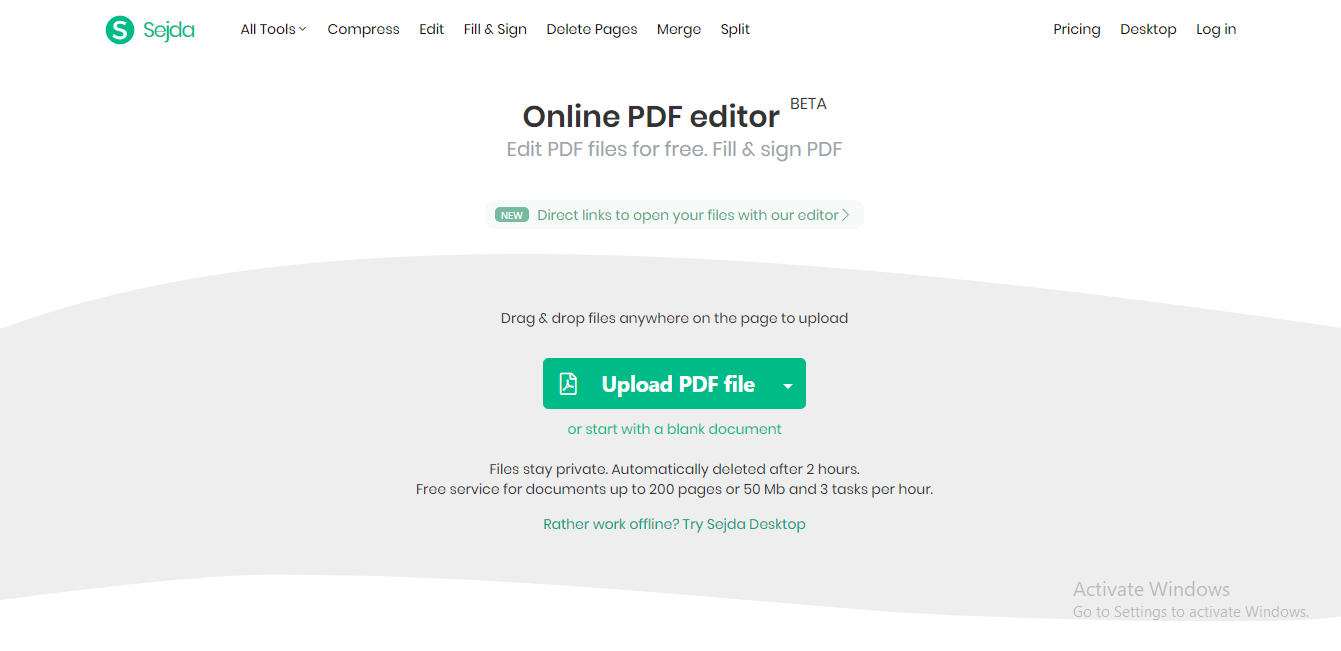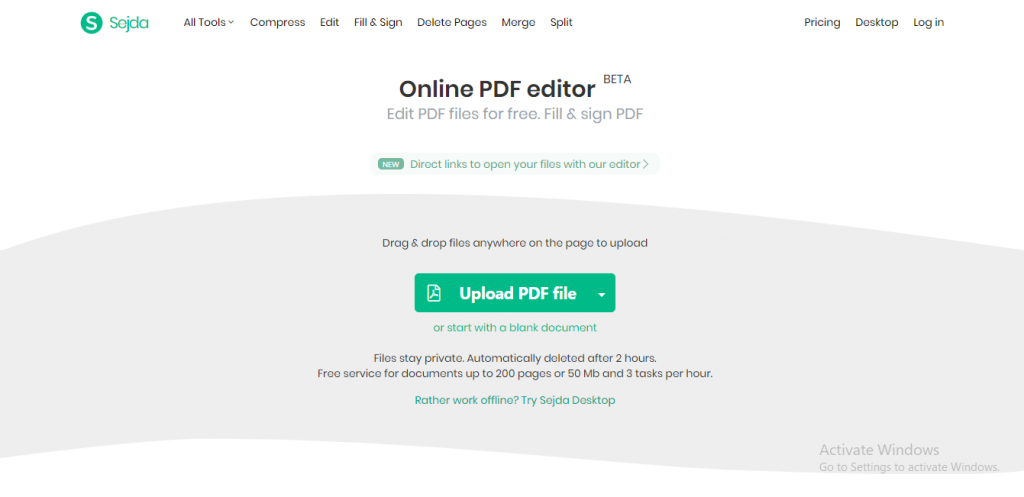 Features:
Provides a link to the users to open the file automatically.

Automatically deletes the uploaded files after two hours

Supports text, image, annotation, editing pre-existing text, and drawing shapes

The electronic signature feature is available

Removes pages from the PDF

Runs successfully on Windows, macOS, and Linux.
 Pros:
Enables loading PDFs from other websites

Includes hyperlinks

Do not add watermarks to the PDF

Allows inserting blank pages into the PDF

Whitens out the undesirable parts of the page

Allows adding images and shapes into the PDF
 Cons:
Can edit only three PDFs every hour

Supports editing of PDFs with less than 200 pages

Doesn't edit PDFs of size more than 50 MB
You may also like to read about: 7 Best Free VPN Apps For Windows
This PDF editing tool is packed with lots of exciting editing features. This editing tool allows you to edit pre-existing PDFs and filter paper files. But just the online form of PDFescape is available for free. With this, you get to explore plenty of PDF editing features such as creating freehand notes and including clickable URL links to your reports. Moreover, it's extremely simple to add, rotate, and annotate the file with the in-browser form of PDFescape.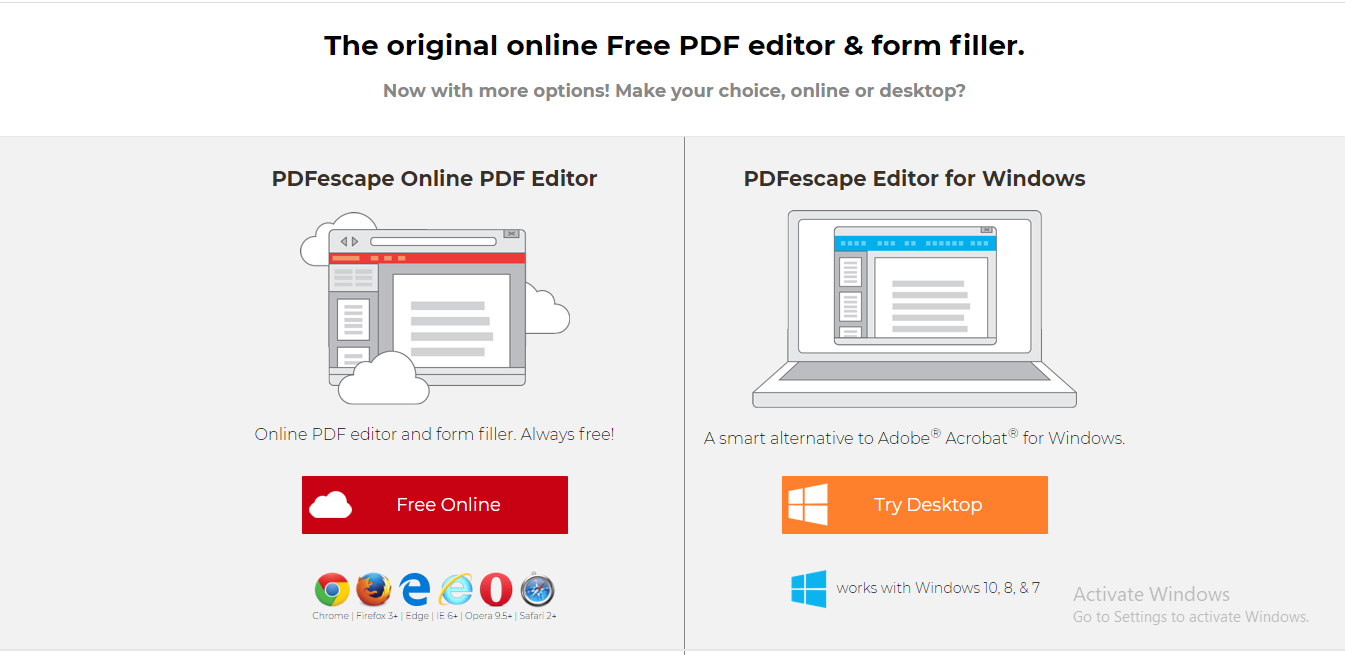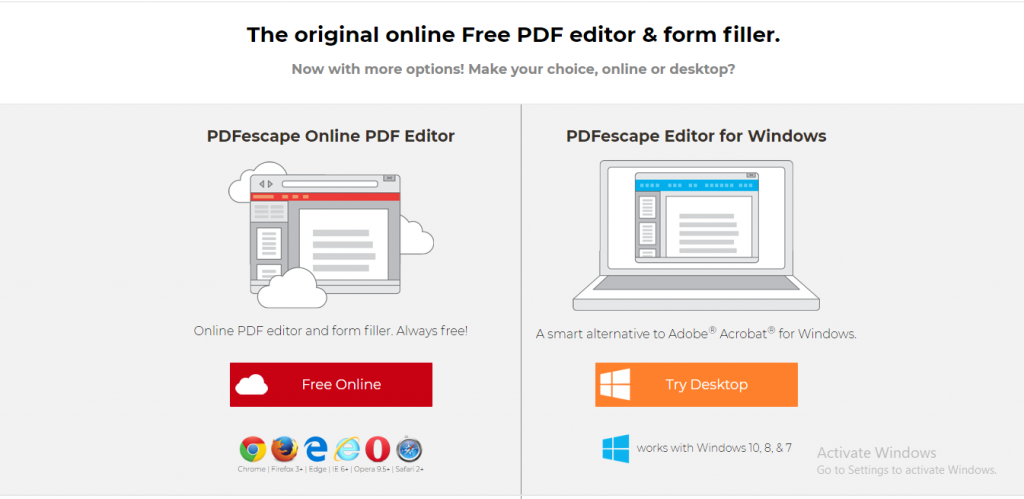 Features:
Enables drawing on the PDF, adding sticky notes, and it even strikesthrough the text

Facilitates deleting, rotating, cropping, reorganizing, and adding more pages to the PDFs.

Provides the ability to annotate PDF files.

Features password protection option.

Supports almost all the web browsers like Chrome, Firefox, IE, Opera, and Safari.

Can load the previously opened PDF.
 Pros:
Tons of editing tools are available

User-friendly editing tool

Instant document merging

Customizable size, font type, colour, alignment, and effects

Whitens the area you want to erase
 Cons:
The free version doesn't edit the file that exceeds 100 pages or 10 MB.

Restricts the PDF size and page length
The PDF-Xchange is an exceptional PDF editing tool that offers easy highlighting, selecting, and striking out text options. Its interface is simpler to use. The choice of stamps and text adding functions effectively track changes in archives. You can extract or remove whole pages from a long PDF record and add new pages to it with text, pictures, or even the entire PDF documents. It even converts the files between PDF and Word formats and uses an OCR for changing over scanned archives into editable content.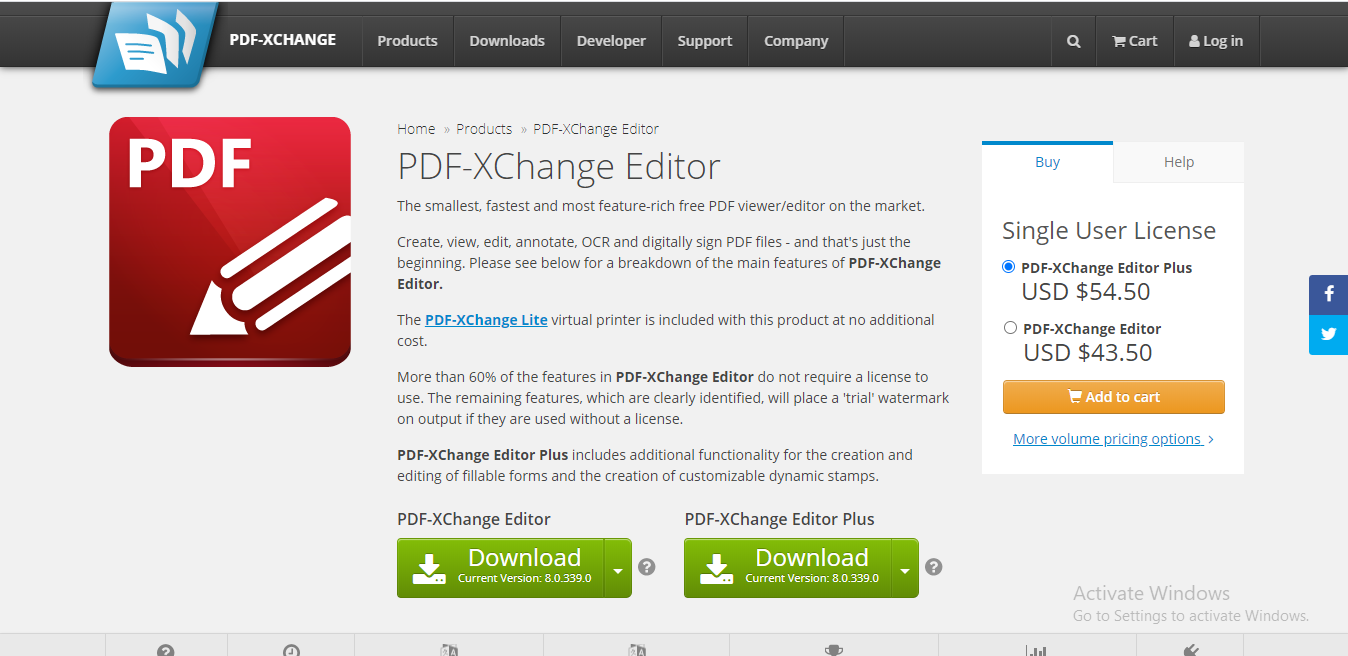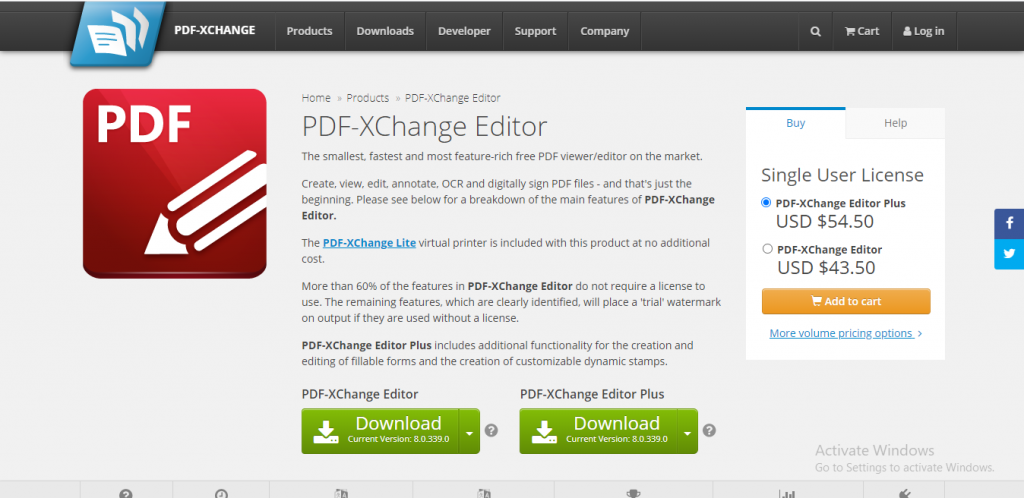 Features:
Highlights all the form fields to easily fill space on required areas

Helps in editing the pre-existing text like adding text to the PDF or adding, deleting pages 

Offers options to create and remove weblinks

Enables to add comments and annotations to the PDFs

Split and merge the PDF document

Create files from scanned documents, pictures, text files, markdown files
 Pros:
Includes OCR to check the text in the PDF

Can import a wide array of shapes and images

Supports the inclusion of QR codes in the PDF

Provides a portable version

Plenty of editing features
 Cons:
Usage of some features might require a license

Compatible with Windows only
You may also like to read about Best Free Screen Recorder Apps for Windows.
Inkscape is a free and open-source editing application that incorporates drawing tools, vector-based graphics, and text editing. Users can create a file, convert it into a PDF, or import a PDF and edit it with various editing tools. Primarily used for picture design, Inkscape is perfect for customers who wish to include large file formats in PDFs. This editing tool deletes or edits the images or text in the PDF. It is highly compatible with Windows, macOS, and Linux.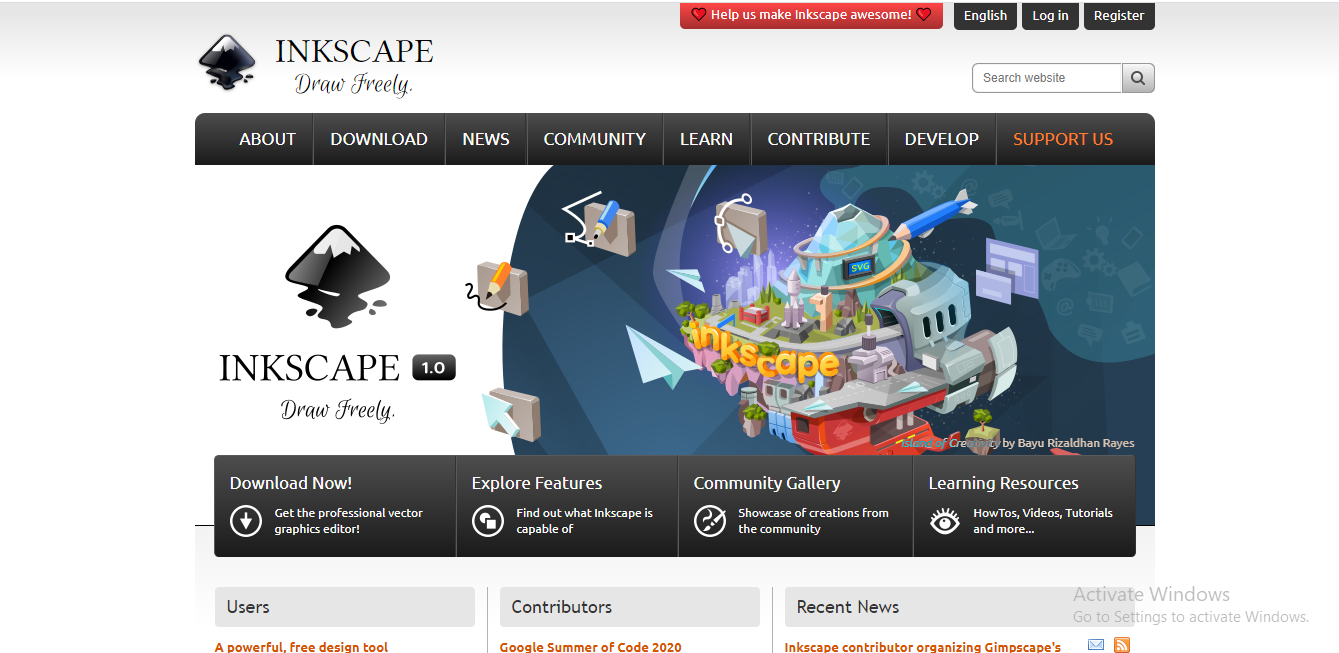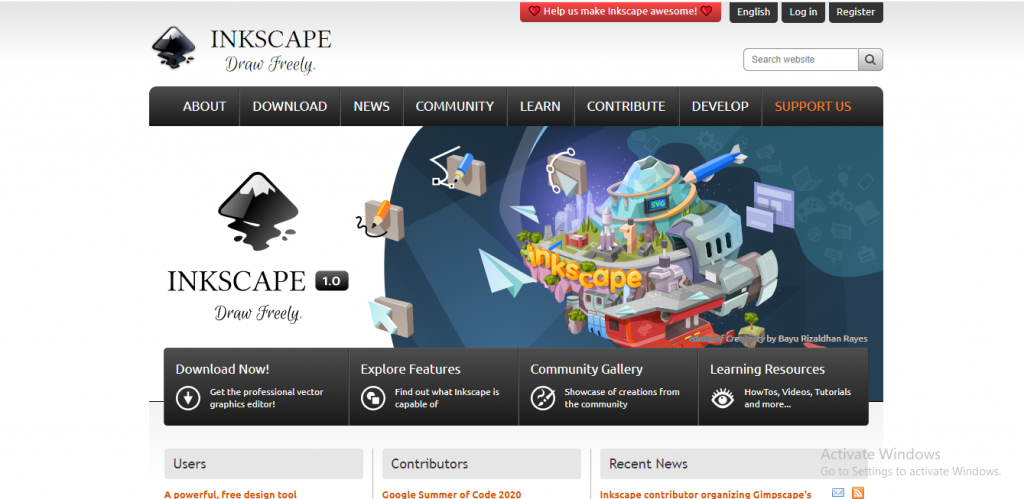 Features:
Supports multiple file formats 

Create objects like shaping tools, text tools, drawing tools

Includes both official and community-created tutorial library

Includes visual interest in the PDFs

Export and imports PDFs in a wide range of formats

Compatible with Windows, macOS, and Linux
 Pros:
Clear and user-friendly interface

Can edit PDF text effortlessly

Uses manipulating graphics

Provides lots of image-editing tools
 Cons:
The number of graphics-editing tools can be overpowering
PDFelement is an excellent PDF editing tool as it offers a lot many features to edit the PDFs effortlessly. PDFelement gives customers a wide assortment of tools to make, edit, convert, and sign PDFs. Clients can mark bookmarks to instantly find the required details, create fillable forms, and export information into Excel. It even split and merges PDFs, converts PDFs to other document types, and offers advanced signatures tools.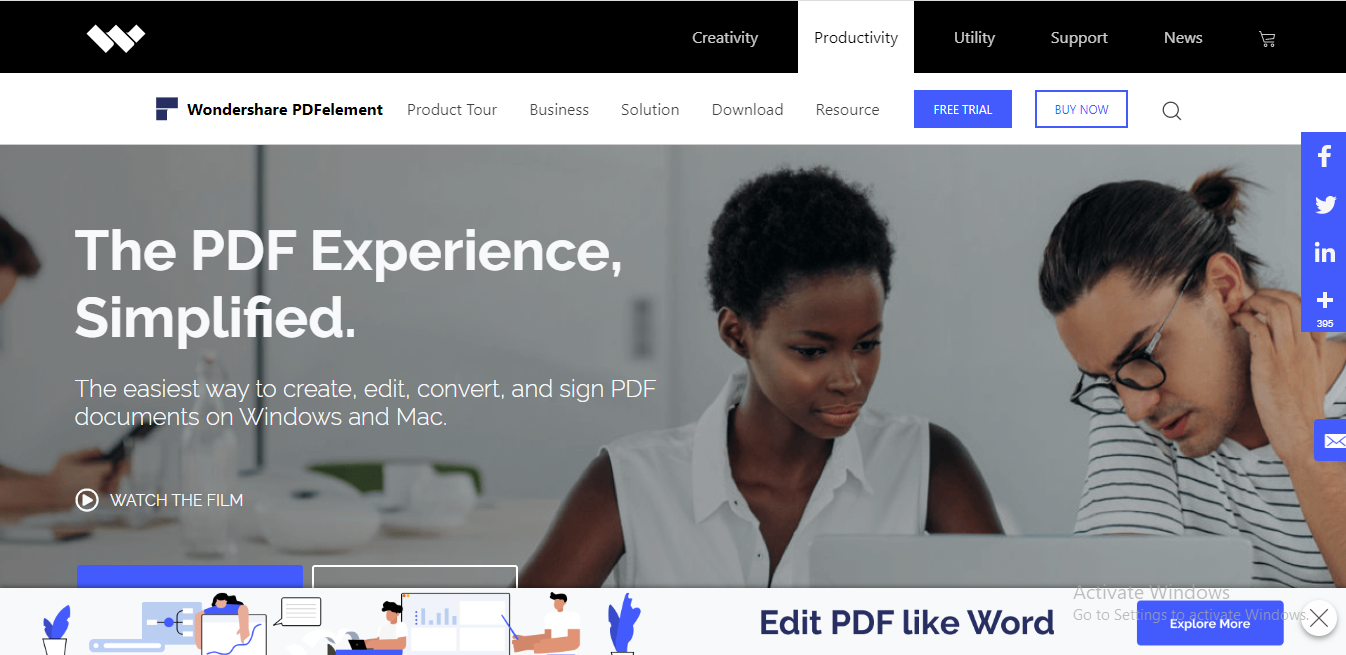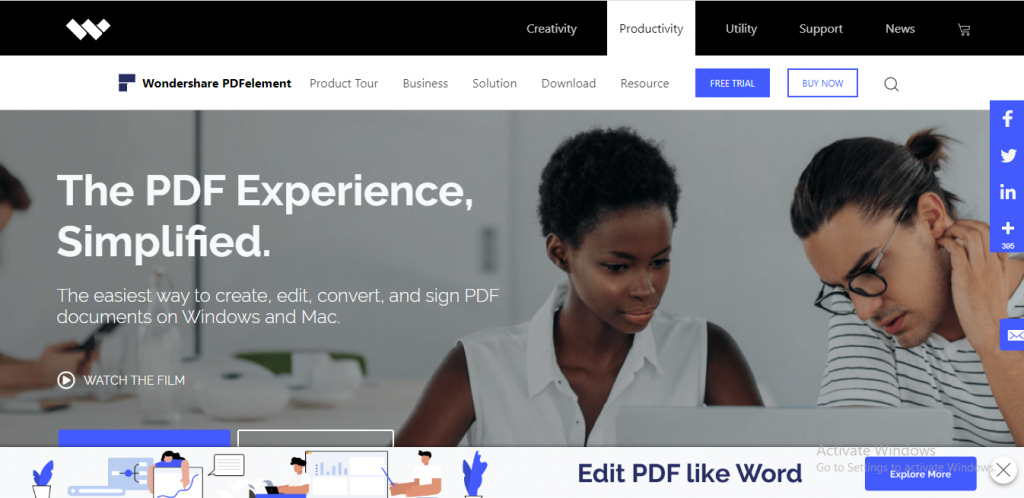 Features:
Offers reading, editing, creation, form filling, and annotation features

Extract data effortlessly and accurately with the form data extraction option

Edit the PDFs without losing fonts and formatting.

Helps to insert, extract, delete, and rotate PDF documents 

Supports electronic signature tool

Compatible with Windows, XP, Vista, macOS
 Pros:
Offers the option to add images, links, and custom watermarks

Edits the background of the PDF

Easy editing of embedded forms 

Supports password-protected PDF

Directly edit the PDF's text
 Cons:
Edited PDFs support watermark
Formswift is a free, cloud-based PDF editor that enables the customers to transfer and edit a PDF on their browser. This editing tool comes with tons of features like adding text, images, pictures, and even a custom e-signature. Formswift comes with different types of layouts to effectively support business or official documents.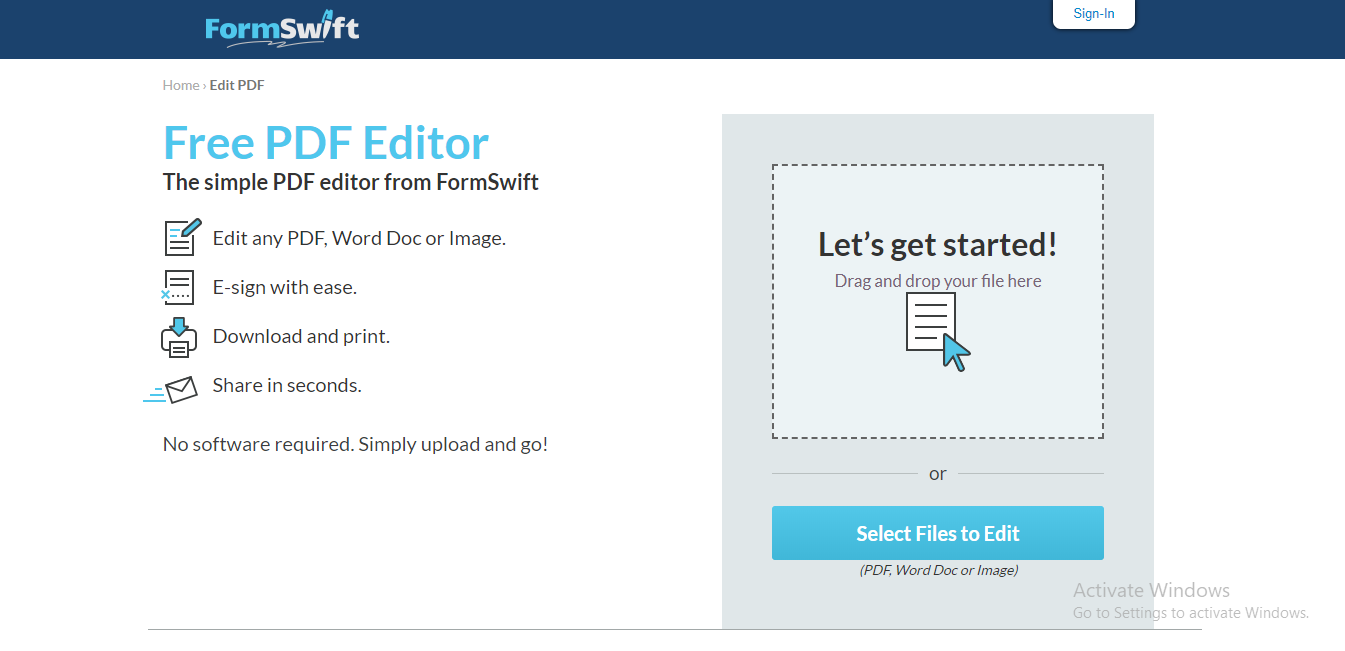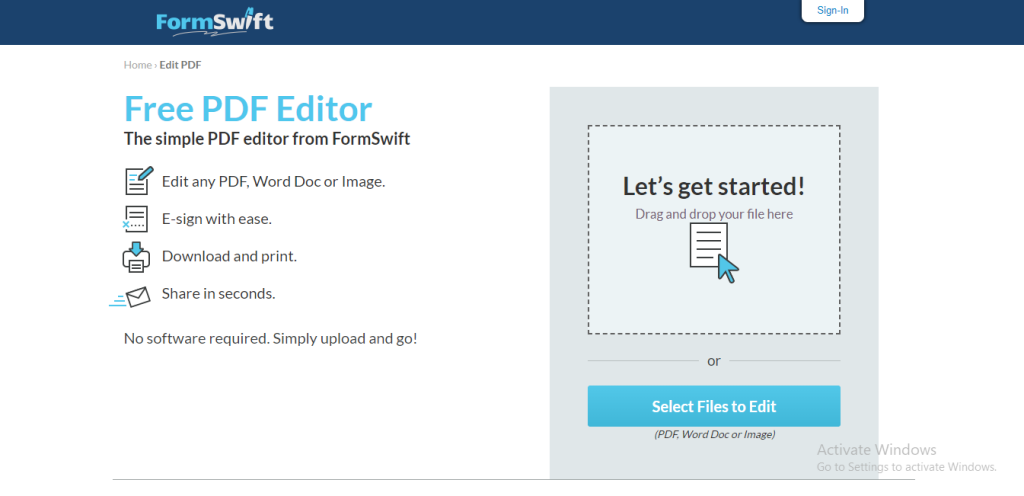 Features:
Selective templates from the supported integrated library of 500+ documents

The built-in dynamic PDF editor allows the uploading and editing of PDFs

Enables users to create, edit, sign, and merge the documents and forms

Documents can be shared via email

Supports document creation

Can insert text, images, checkmarks, and save and update the PDF 

Compatible with Windows, Linux, Android, iPhone, Mac, web-based devices
 Pros:
A user-friendly and well-designed interface

Impressive editing features

Affix e-signature easily

Ensures confidentiality of uploaded documents

Easy editing process
 Cons:
Not suitable for marketing content supporting pictures and graphics
You may also like to read about Best Free Screen Recorder Apps for Windows.
Frequently Asked Questions
1. How to edit a PDF file?
There are various PDF editors available for free, like PDFescape. Using PDFescape, you can edit a PDF file by following the steps given below-
Firstly, visit the website PDFescape on your browser.

Then, after the website opens, upload the PDF in which you have to make the required changes

Then, on the upper left corner, there is a "T" icon, click on that if you want to add text to the PDF file.

If you want to edit the PDF any other way, there are various options you can use to add image, shape, etc.

Once you're done with editing, click the download option on the left-hand side.

Now you can save the edited PDF on your device or even upload the PDF on various platforms.
2. What are the features of a good PDF editor?
A great PDF editor should possess the capability to convert a large variety of documents and file types—from supporting various file formats to adding images to PDF—and that too seamlessly, protecting the original formatting design. It should also use OCR technology to make the text used in the PDF searchable and editable.
3. Which is the best editing software for editing a multiple page PDF file?
Adobe Acrobat Pro is considered the best for editing multiple PDF files quickly. Though it is available as a paid version, no other editing tool matches the depth of features this editing tool offers. It supports cloud-based commenting and sharing, text indexing for quick searches, converts photos stored on the device into PDF, etc. Acrobat is a perfect PDF editing tool that smoothly works on the desktop, mobile apps, and the web.
You may also like to read about Best Android Emulators
Conclusion:
In a nutshell, the PDF editor's main objective is to polish your PDF by using lots of editing features. Having said that, the best free PDF editors for 2020 we enlisted above offer more or less the same features. Whether you want to edit PDF for commercial use or personal use, free PDF editing tools provide a variety of features to create and edit the document file. By accurately examining the PDF editor mentioned above, you can make a choice based on your actual needs and interests.
You may also like to read about: Best Free PDF readers for Mac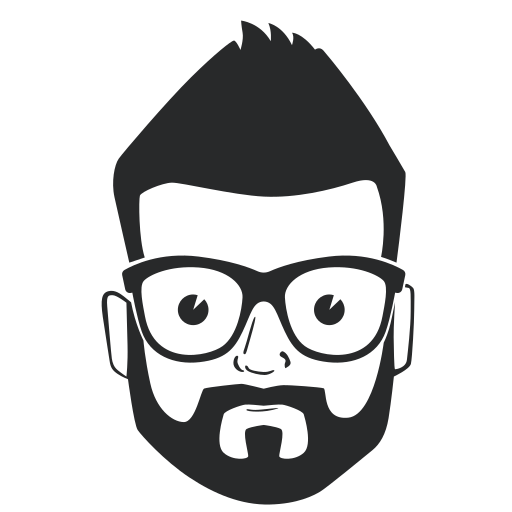 James is the editor of CellAlpha. He's a graduate and loves to write tech reviews, guides, and how-to articles. James is 24 years now.