We all know that YouTube is the ultimate king in the video streaming industry since there's no other multimedia service provider like it. But at times, we don't have much time to view the entire video. Instead, we prefer audio over video. That is where YouTube to MP3 converters comes in. It allows the user to extract the audio from YouTube videos so that it can be used offline. This tool helps to save an audio file from our favourite videos. Therefore, we've handpicked some of the best free YouTube to MP3 Converter in 2020 that deliver disruption-free services.
You may also like to read about: IMO for PC- Download Latest PC version without BlueStacks.
7 Best Free YouTube to MP3 Converter in 2020
4K YouTube to MP3 converter helps the users to download the soundtracks, playlists, podcasts, and audiobooks from YouTube. This tool does everything that users ever wanted. This converter supports all the major platforms like SoundCloud, Facebook, Instagram, and more. Moreover, it features the content in the highest possible quality, in different sound formats, and with minimal fuss involved. It comes with a fast and quick download. It is compatible with Windows only.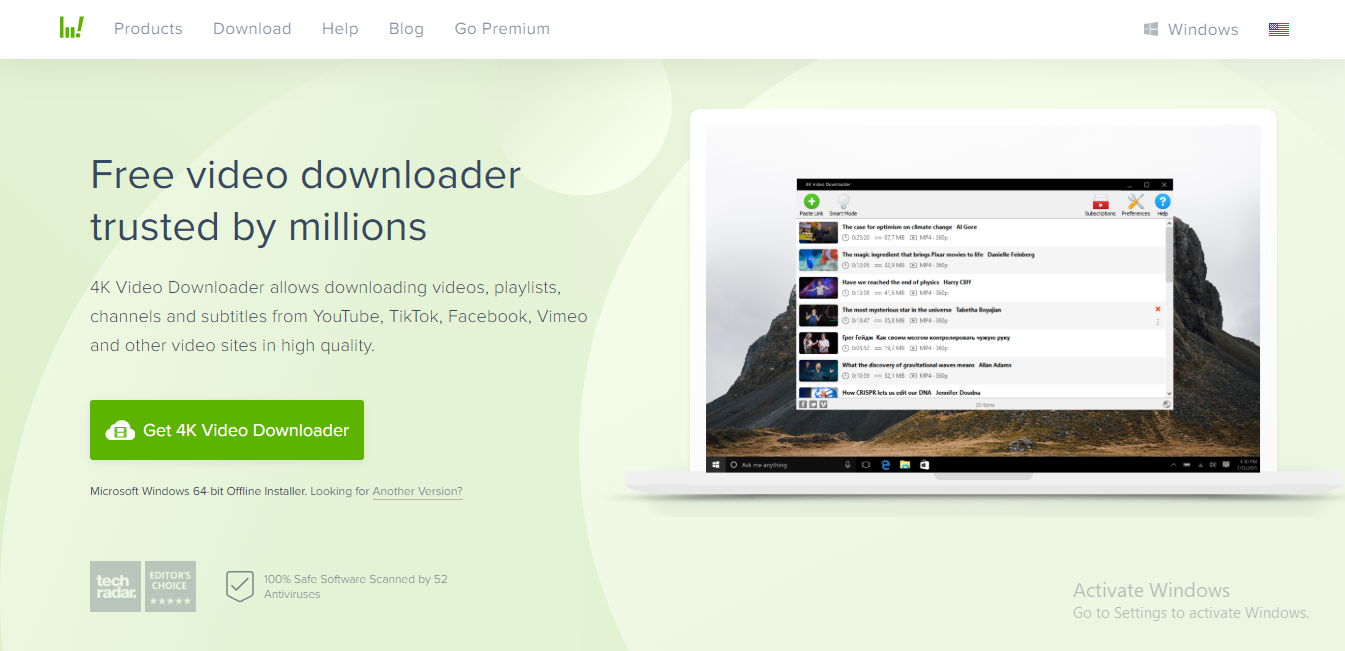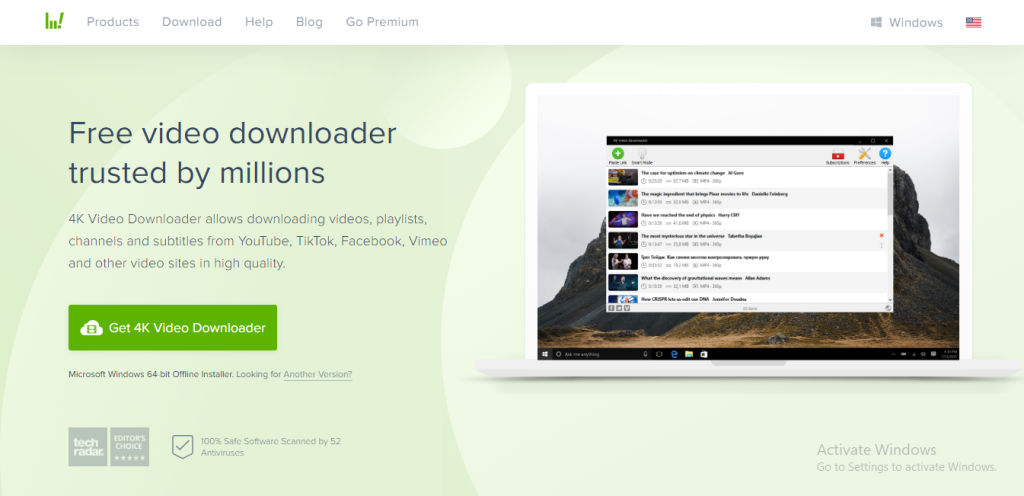 Features:
Download videos from YouTube, DailyMotion, Vimeo, and more

4K Stogram saves photos and video content from Instagram

Download private YouTube videos with access to original quality.

Download podcasts and audiobook content from YouTube.

Smart Mode instantly downloads and gets videos and songs downloaded easily

Compatible with Windows, macOS, or Linux.
Pros:
Impressive functionality of the free version

Excellent and customizable output quality settings

Enables downloading from multiple websites quickly and easily

Saves the entire YouTube playlist

Allows working through proxy
Cons:
Access to unlimited features is only accessible for paid subscribers

A bit demanding for PC performance
This YouTube to MP3 Converter tool lets users easily add and convert numerous records. The converter even provides various options to download and convert all videos or any desirable playlist from YouTube, but this may be time-consuming, depending on the number of recordings. It also customizes output names easily. The converter can moreover fill MP3 tags and artworks automatically.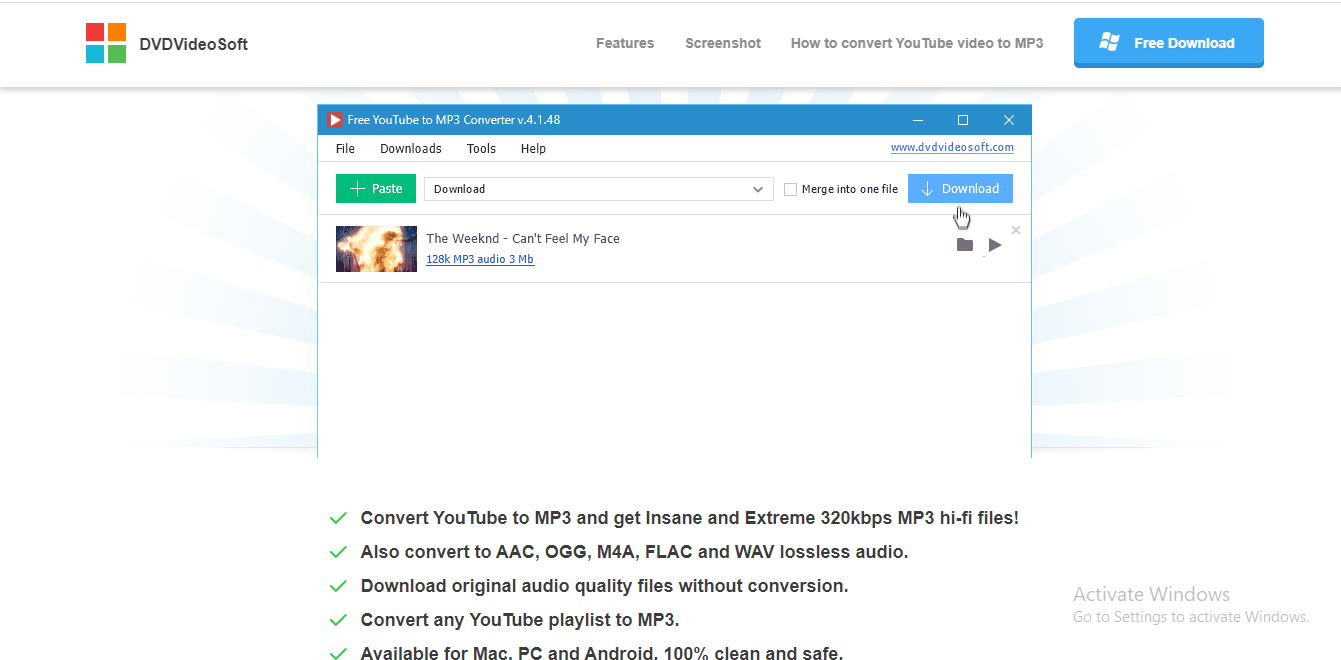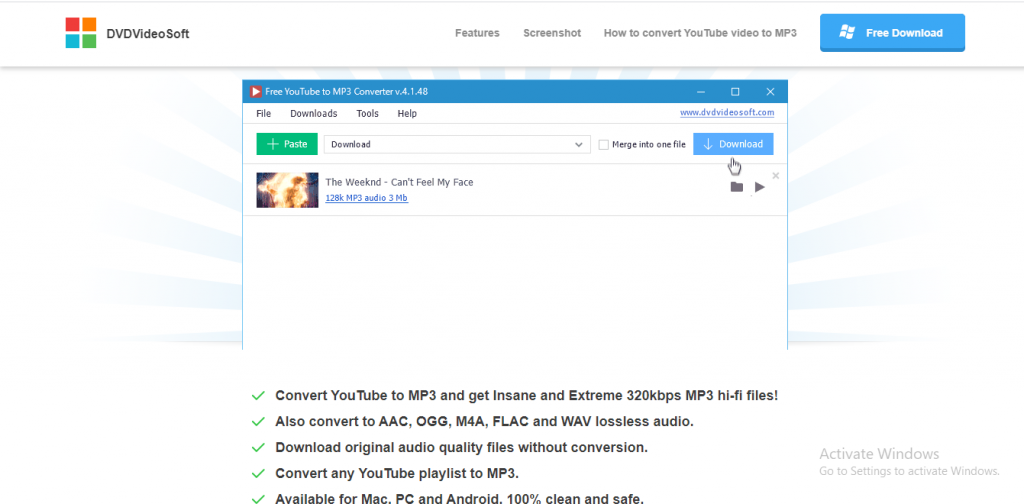 Features:
Converts YouTube into MP3 and supports 320kbps MP3 hi-fi files

Allows conversion of AAC, OGG, M4A, FLAC, and WAV lossless audio.

Supports all the audio/video formats

Download original audio quality files without conversion.

Convert all the required YouTube playlists to MP3.

Compatible with Mac, PC, and Android. 
Pros:
Tons of export formats

User-friendly interface

Supports video in high quality

Capable of supporting bulk downloads

100% clean and safe
Cons:
Time-consuming downloading

Can't download video content that lasts for more than 3 minutes
You may also like to read about: 7 Best Free Photo Editor Apps For Windows
YTD Video is one of the most powerful YouTube converters for saving videos from YouTube and more platforms. The program plays content within the in-built player, though you can stream it in any other player. YTD Video Downloader is somewhat similar to other converters of its kind, like in grabbing the file. It can save video content in various types of formats. The users can also make some necessary edits to the content they kept in this converter.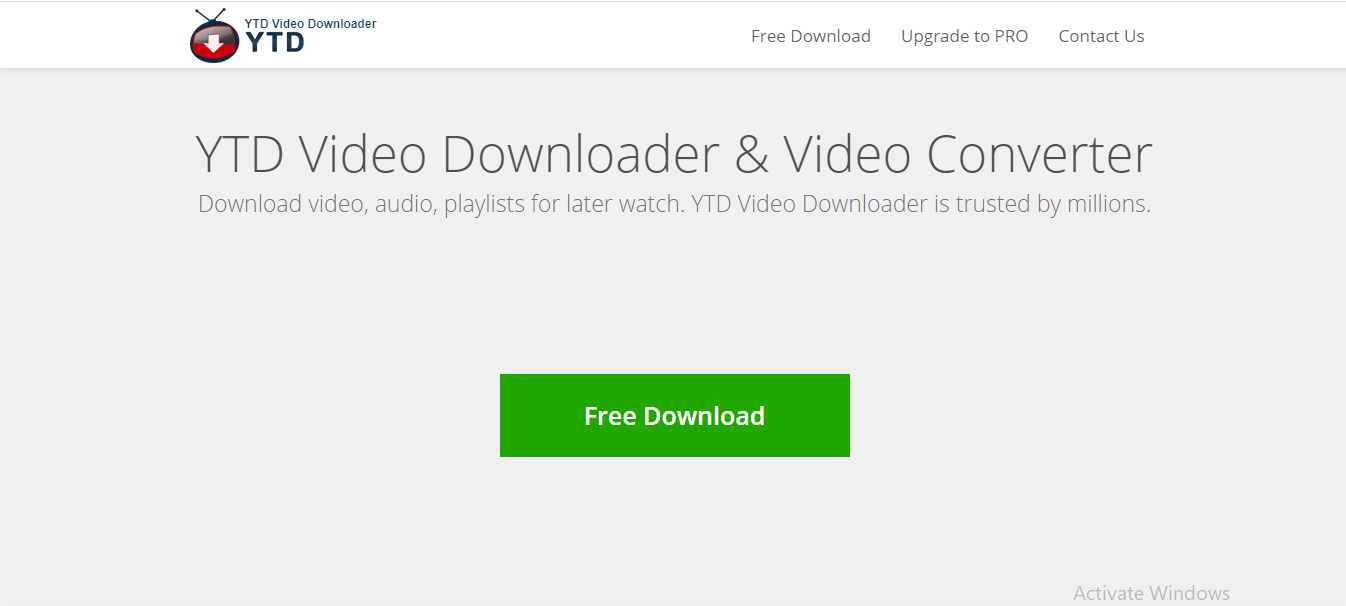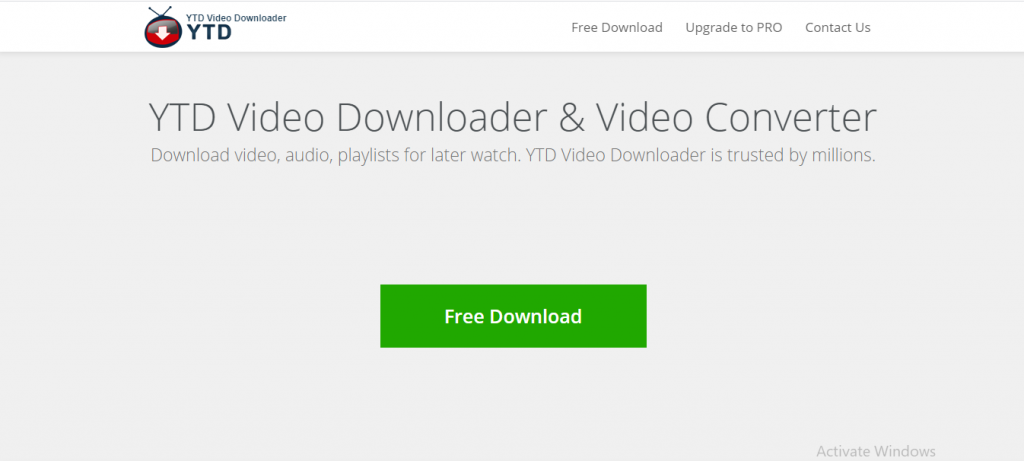 Features:
Supports video downloading from YouTube, Facebook, DailyMotion, Vimeo, Metacafe, etc.

Allows video downloading in all quality mode

Provides drag and drop video link from browser to the dropbox or program for downloading

Download and save multiple videos at a time

Gives the option of a preview function before downloading a video

Supports all the devices for streaming the audio format extracted from YouTube
 Pros:
Allows simultaneous downloading from different sites

Deletes corrupted and partially saved files automatically.

Finds materials and accidentally lost through the program interface saved before

Customizable settings

Low system requirements make it suitable for various devices.

Faster downloading process
 Cons:
The software is not updated on a regular basis

Instant conversion is available for the subscriber users

Do not save multiple files simultaneously
aTube Catcher is a YouTube converter with top-rated features and functions. The downloading process is fast, and the interface is well-functioning, though it has not been updated for quite some time. It effortlessly converts YouTube recordings to MP3. It even downloads and saves the URL link that the user wants on their device. This tool is suitable for both beginners and experts. This converter offers three preset resolutions for MP3 format.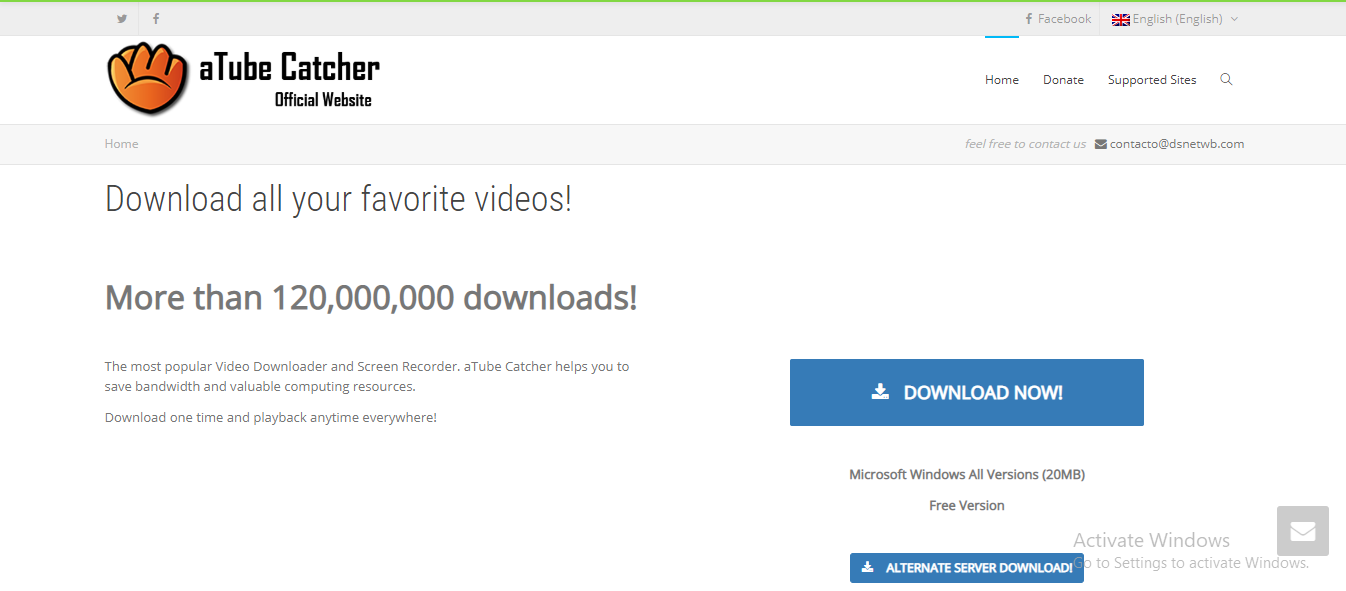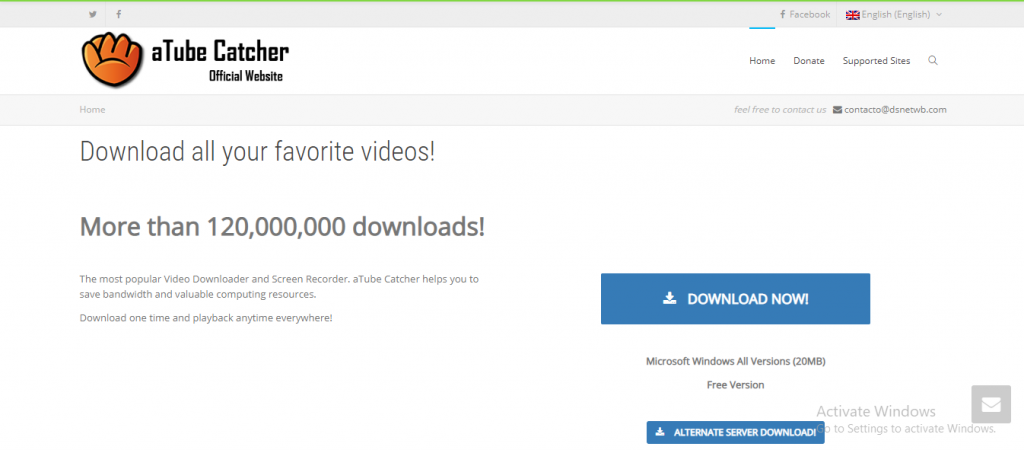 Features:
Support downloading videos from various multimedia websites like YouTube, DailyMotion, etc.

Export the downloaded videos to your device

Equipped with a built-in recorder to record PC activities.

Consists of an inbuilt MP3 downloader having search options.

Audio and video cropping tool resizes videos

Equipped a VCD, DVD, and Blu-Ray creator with a simple drag and drop option.
Pros:
Plentiful supported format of the video 

Allows customization of the resolution, aspect ratio, frame rate

Highly resourceful batch conversion

Easy to use

Suitable for beginners
Cons:
Adware in installer

Does not work very well with the video streaming platform other than YouTube
You may also like to read about: Best eBook Reader Apps For Windows in 2020
This computer program is one of the most comprehensive and powerful YouTube to MP3 converters we came across. Not just converting videos to MP3, it has lots of other great functionalities. The function of converting YouTube recordings to MP3 is straightforward. The users can simply paste the URL of their video and select the specified audio format and press the "Convert Now" button. It supports different video recording formats (20+ record sorts) and extracts more than a dozen audio formats.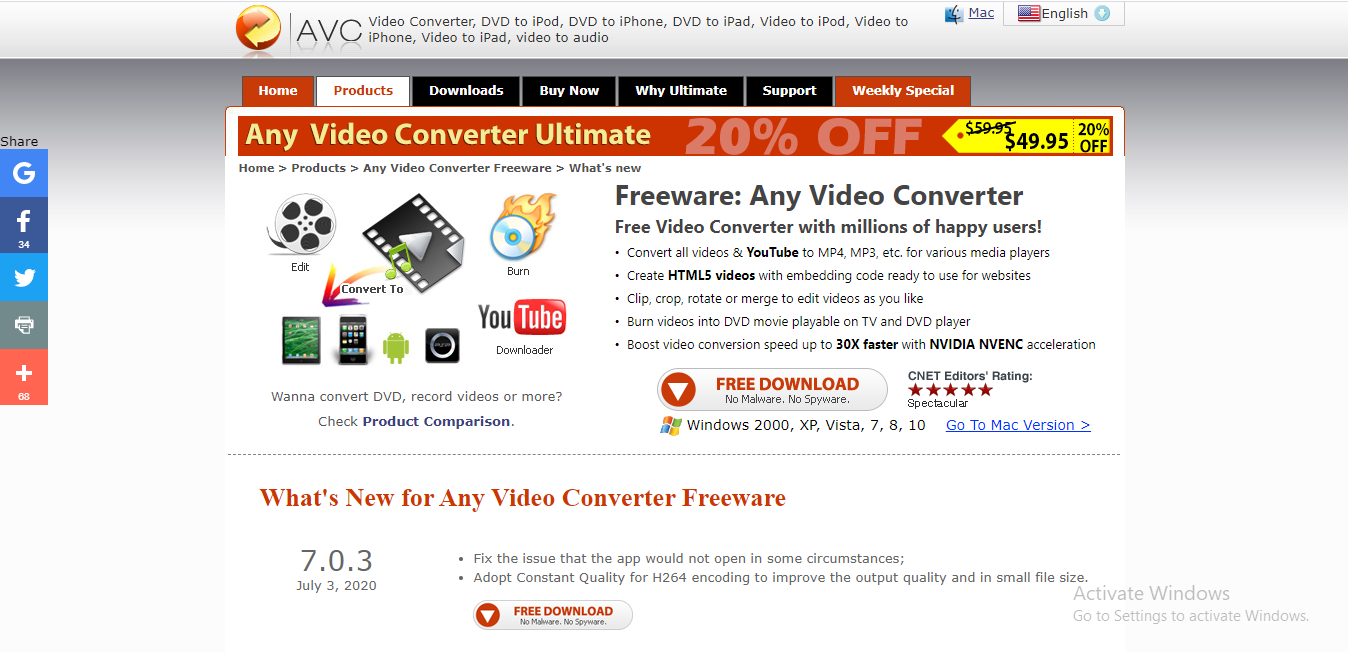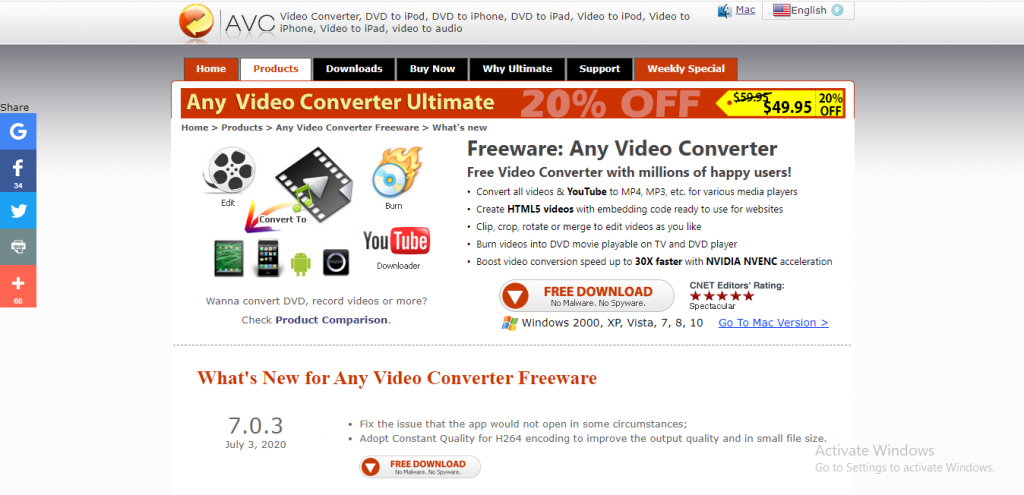 Features:
Converts video formats of various types

Supports all the portable media players

Enables ripping audio files from CD directly

Can download videos from 100+ video sharing sites, including YouTube, Facebook, Dailymotion, etc.

Can be downloaded on the hard drive

Merges multiple video files into a single video

Compatible with Windows, macOS
Pros:
Intuitive and clutter-free interface

Selective export options are available

Converts clips from almost all the sources

Fast converting speed

Excellent video quality
Cons:
Buggy playing

Comes bundled with extra software
You may also like to read about: Best Free PDF Readers for Mac
Freemake YouTube MP3 converter has a smart computer program that enables you to download tracks, and albums quickly. It has a sophisticated search bar to identify YouTube's directory so that you can copy the URL of your favourite video. It even provides a list of trending songs to discover playlists from your preferred genres. It supports sharing the content on various platforms, like Facebook and Twitter. It downloads the playlist at the highest bit rate, up to 320kbps. In any case, it converts videos to any other audio format.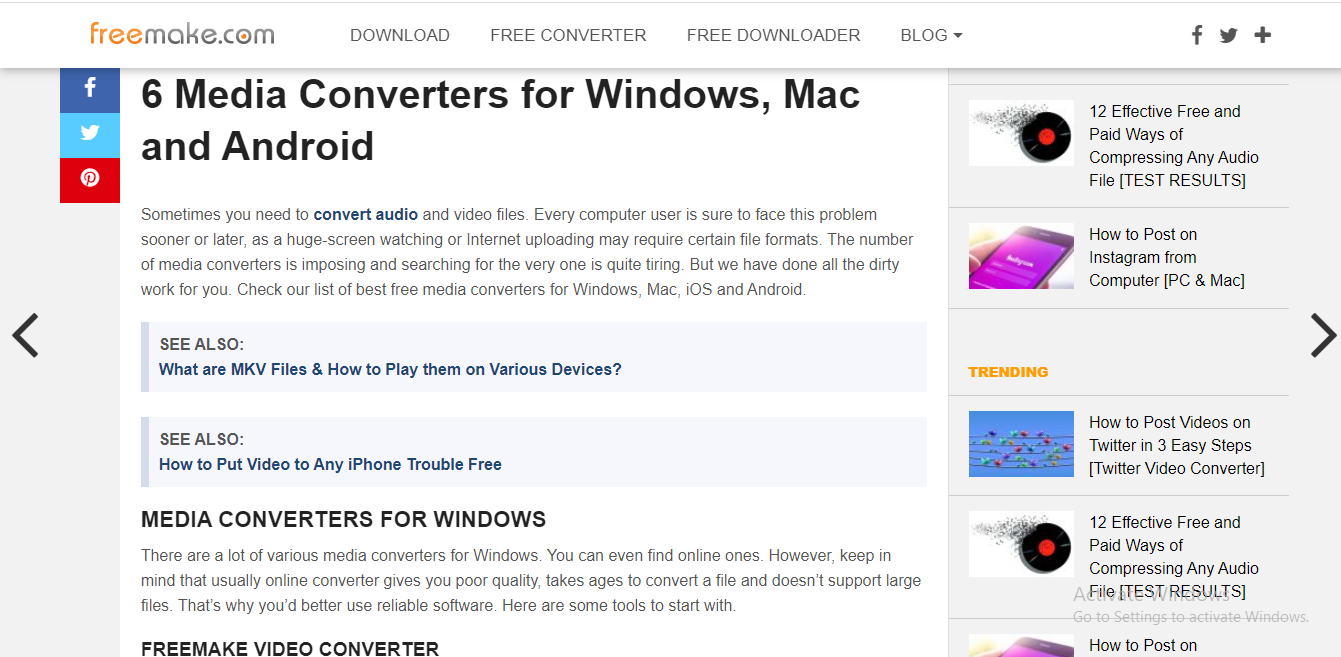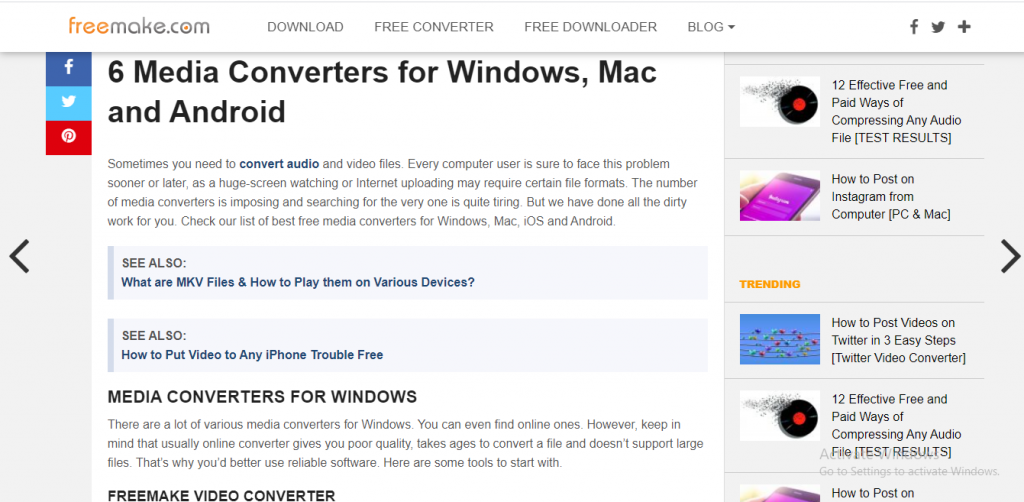 Features:
Converts video, audio, or photo

Supports video downloading from YouTube, Vimeo, Vevo, Dailymotion, and other websites

Edit and modify the videos using cut, join, And rotate function

Allows the user to rip and burn DVDs and Blue-Ray

Converts HD films to MPG or AVI file formats with subtitles

Supports more than 500 video file formats
 Pros:
No advertisement

Convert entire YouTube playlists in one go

Supports a wide array of input formats.

Burns files directly to a disc.

Merges video files smoothly

Imports subtitles easily
 Cons:
Sluggish conversion 

Last updated in 2017
You may also like to read about: Best Android Emulators in 2022
With this converter, you can easily download streaming videos from various multimedia sites like Vimeo, YouTube, and Dailymotion, converting to various formats in the process. It comes with an integrated search bar that gives a robust and fast way to search for any video you need to download without using a browser. It also allows the user to download tons of video content through clipboard monitoring. For copying a video connected to the clipboard, ClipGrab can naturally download the popular video, saving time and energy by searching elsewhere.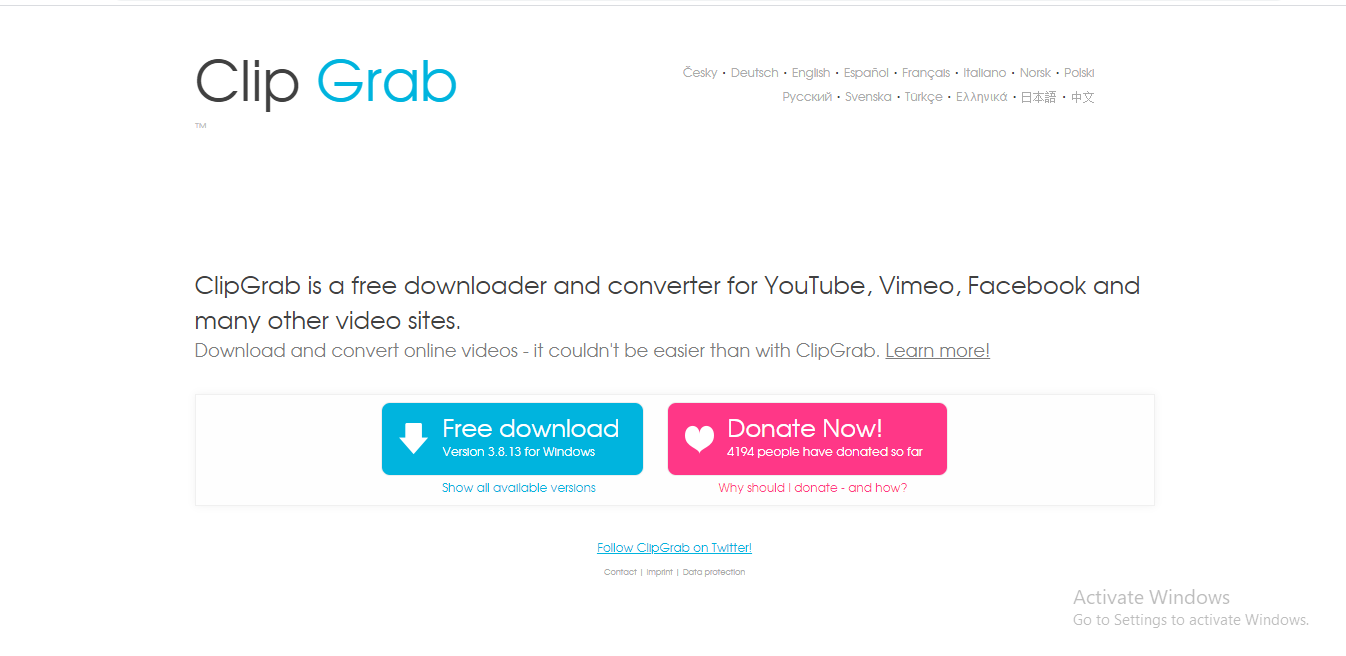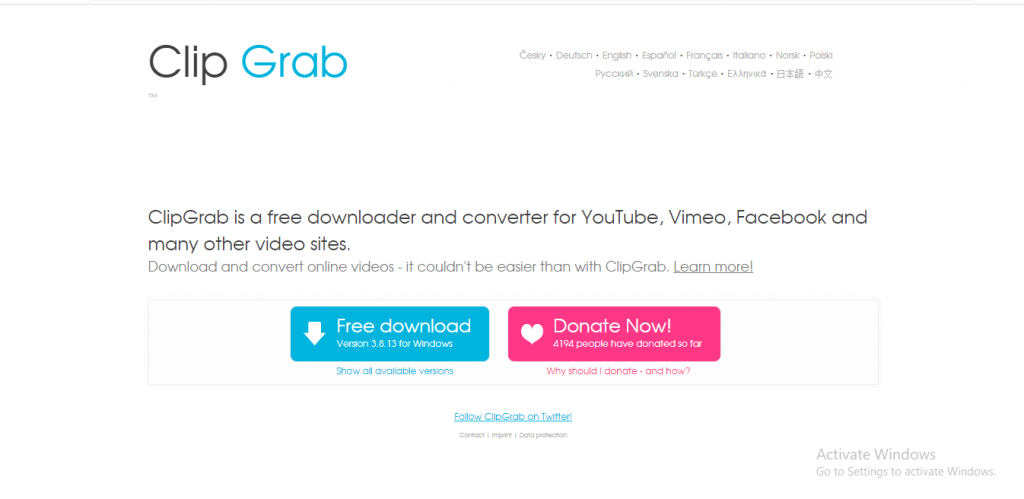 Features:
Supports various video streaming platforms like YouTube, Vimeo or other sites 

Allows downloading in both 720p and 1080p versions

Support a large number of popular video formats

Export video content to the device

Automatically activates the copied video link to the clipboard.

Compatible with Windows, including Windows XP.
 Pros:
User-friendly interface

Easy navigation

Integrated search bar

Fast downloading process

An impressive clipboard monitoring function
Cons:
The search bar gives only 12 results
You may also like to read about: Best Free YouTube Downloaders in 2020
Frequently Asked Questions
1. Is it safe to Convert YouTube Videos to MP3?

 
It is and is not legal to convert YouTube videos to MP3.
Downloading videos from YouTube or extracting audio files out of the YouTube videos is absolutely safe and legal, provided the video you're downloading is your own and original content. In other words, you're the original creator of the video. Else, you must seek written permission from the person or owner who claims the right to the video.
However, if you want to free download the videos without seeking permission from the rightful owner of the videos, you cannot lawfully utilize YouTube as your own music collection source. This is implied even if you're using it for personal use and don't wish to share them with your friends.
2. How to convert YouTube videos to MP3?
The following steps should be followed for converting YouTube videos to MP3 are as follows-
Enter the URL of the YouTube video you want to download into the search box.

Choose MP3 along with the quality mode in which you want to convert and press the "Download" button.

Wait for the video conversion and download the file once it has been downloaded.
3. What are some of the basic features of a good YouTube to MP3 Converter?
Some of the basic features of a good YouTube to MP3 Converter are mentioned below-
It should support all multimedia platforms like Windows, Mac, Linux, Android, and iPhone. 

It should be easy to use. It should also convert the video quickly.

The converter should support all video and audio formats conversion like MP3, 3GP, MP4, WMA, M4A, FLV, WEBM, and MO formats. 

It must be capable of uploading the converted files to your DropBox and Google Drive.
You may also like to read about: Best Free YouTube Downloaders in 2022
Conclusion
A YouTube to MP3 converter allows the user to download a YouTube video content into an MP3 file, an ideal solution in case all you want is to extract audio out of a video. With this, you can make a ringtone from the YouTube video, add the MP3 to your playlist, etc. And getting all that for free makes it even more exciting. All these best free YouTube to MP3 Converters in 2020 we enlisted above helps you explore the unique set of features that you might have seen before.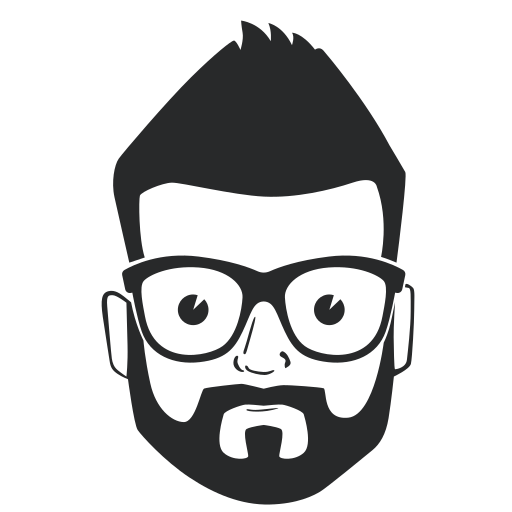 James is the editor of CellAlpha. He's a graduate and loves to write tech reviews, guides, and how-to articles. James is 24 years now.