Nowadays, everybody is busy boasting about their daily life routine through their social media handle. The Internet is flooded with images that have become an integrated part of an individual's life. And so does the requirement for photo editing apps has emerged at a rapid pace. People are increasingly making use of photo editing applications to make their photos a lot more fascinating and stunning. Here we have enlisted some of the best 7 free photo editor apps for Android to make your mundane photo look stunning and lively.
You may also like to read about: IMO for PC- Download Latest PC version without BlueStacks.
Best 7 Free Photo Editor Apps for Android
If you're looking for an all-rounder photo editing application, then Adobe Photoshop Express can serve you well. Equipped with easy to use and well-designed interface, Adobe Photoshop Express is an extraordinary Android photo editor for quick, simple, and effective editing. It is a feature-rich application with essential highlights like editing, adding effects, turning, and rotating the images. Adobe Photoshop Express is competent enough to offer more than 80 filters, effects, borders, and colours. It works superbly with iOS and Windows, and all this at no cost.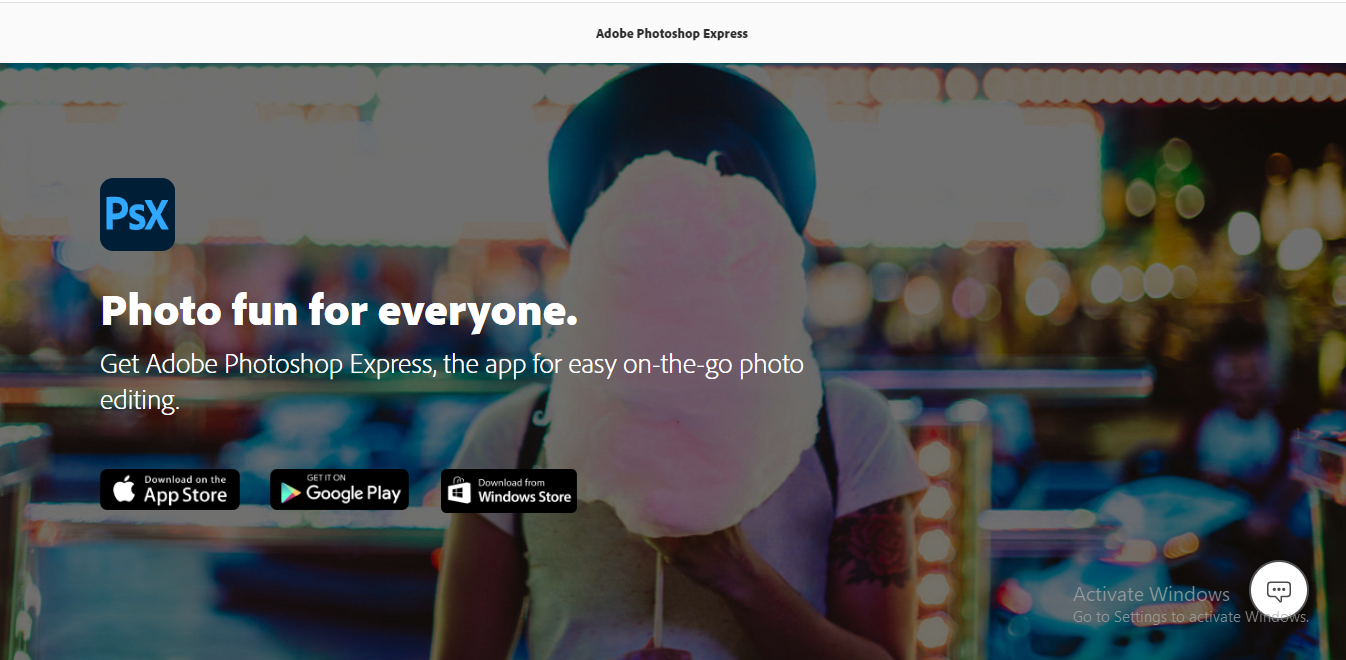 Features:
Features the comparison function of original and edited photos
Attractive colour effects like Glow, B&W, Memory, and many more
Adjustable shadows, intensity, highlights, tint, exposure, brightness
Auto fix tool automatically improves the colour
Smart functions like automatic removal of red-eye
Wide variety of frames, edges, and borders to select from
Pros:
Lots of filters are available for editing
Allows importing and editing of photos in RAW format
Can be uploaded instantly to a social media account
Easy navigation
Cons:
Limited tutorials available
Requires registration
This photo editing application is a professional-grade tool designed by Google. It offers a massive amount of editing features, filters, effects, and styles that you can add to your photos effortlessly. Its tool button gives access to more styles and effects you can add to your photos. It can be shared on various social media platforms. As a free version, it offers everything that the customer's been looking for. It is compatible with android and iOS software.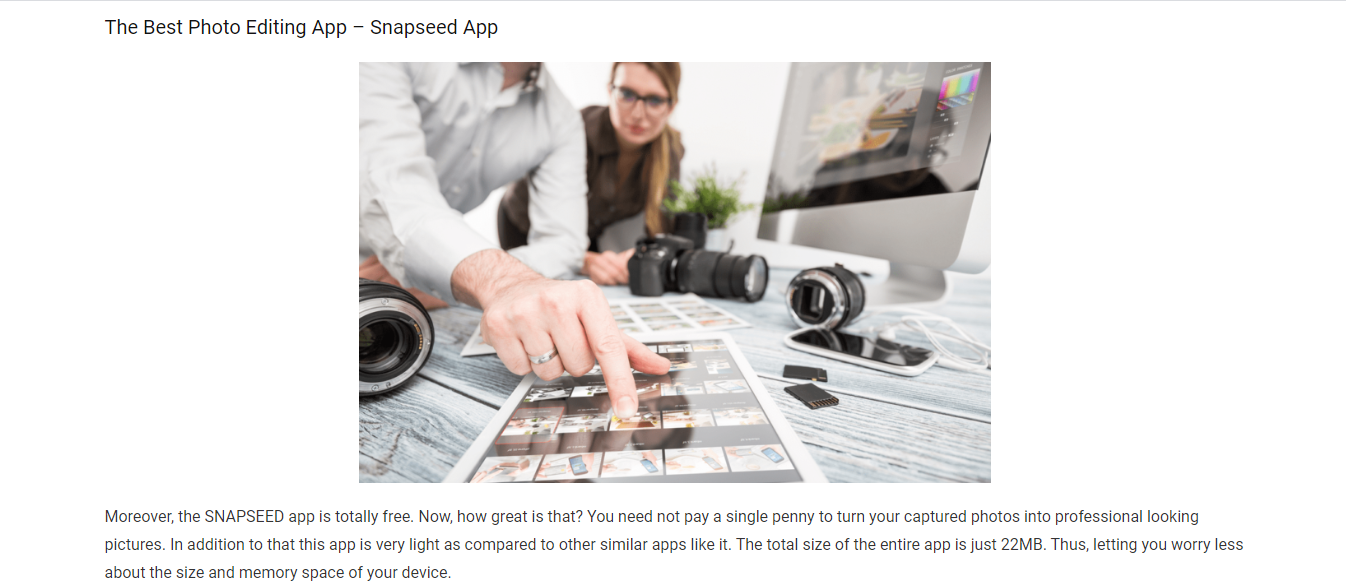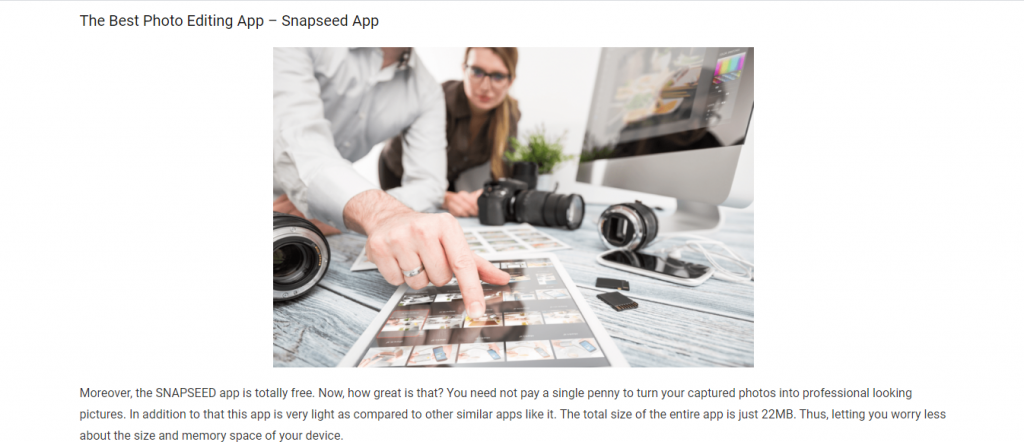 Features:
Offers effects like vignette, vintage, drama, grunge, etc.
Provides automatic colour adjustment, blur, saturation, vibrance adjustment option
Allows comparison of the edited and original image
Saves the customized preset for future use
Supports JPG and RAW files
The selective filter brush tool is available
Pros:
Consists of 29 tools and filters
Professional-grade features
Intuitive interface
Easy navigation
Ad-free
Cons:
The steeper learning curve for beginners
You may also like to read about: 7 Best Free Photo Editor Apps For Windows
Pixlr is one such photo-editing application that can make your photos look a lot more appealing thanks to its powerful and advanced features. It consists of more than 2 million combinations of free features, filters, and functions. You can even make photo collages using different formats, background types, adjust colour, change orientation, cropping, etc. Moreover, it can enhance your photo with a doodle, drawing toolkit, and ink outlines. You can also upload the pictures straight away to your social media sites. It comes with an absolutely free installation with in-app purchases, but it is supported by advertisements.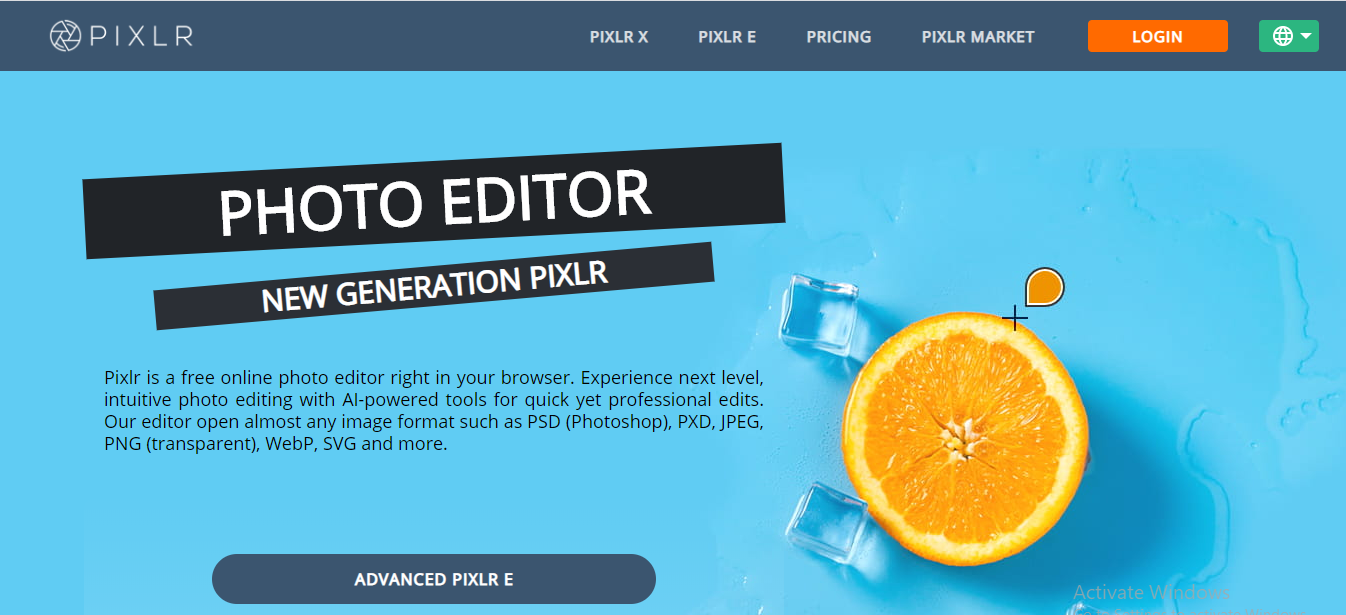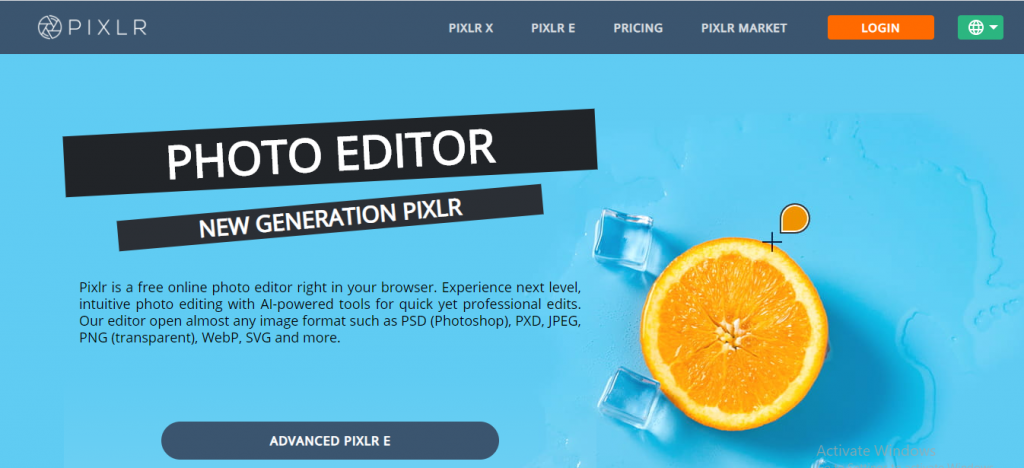 Features:
Adjust the opacity and size of the photos in full size
Offers partially-transparent overlays like smoke, chemical burn, outer space image, etc.
Provides background and border frames of all size
Supported with customizable features like blur, saturation, smooth, brightness effects
Equipped with a drawing tool consisting of pencil, silk, poster, paint, old, unicolour, vintage effect
Allows file saving online
Pros:
Powerful and well-functioning tools.
Supports tons of overlays for photo collage.
Customizable workspace
Impressive on-tap enhancement tools
Lots of editing features
Cons:
Not many tutorials and instructions are available
Not operational with TIFF or RAW images
Ad-supported supplemented with in-app purchase
BeFunky is a complete feature-packed online photo editor and collage producer accessible in an ultra-simple interface. It strengthens functions for getting a photo from your desktop, capturing from a webcam or other sources like Facebook or Dropbox. It includes tons of incredible features, organized in different categories, such as Fundamental Altering, Touches Up, Impact, Illustrations, etc. Moreover, BeFunky's interface for editing is quick and straightforward, and it is also an advanced option for perfect editing. Overall, BeFunky was simply sublime.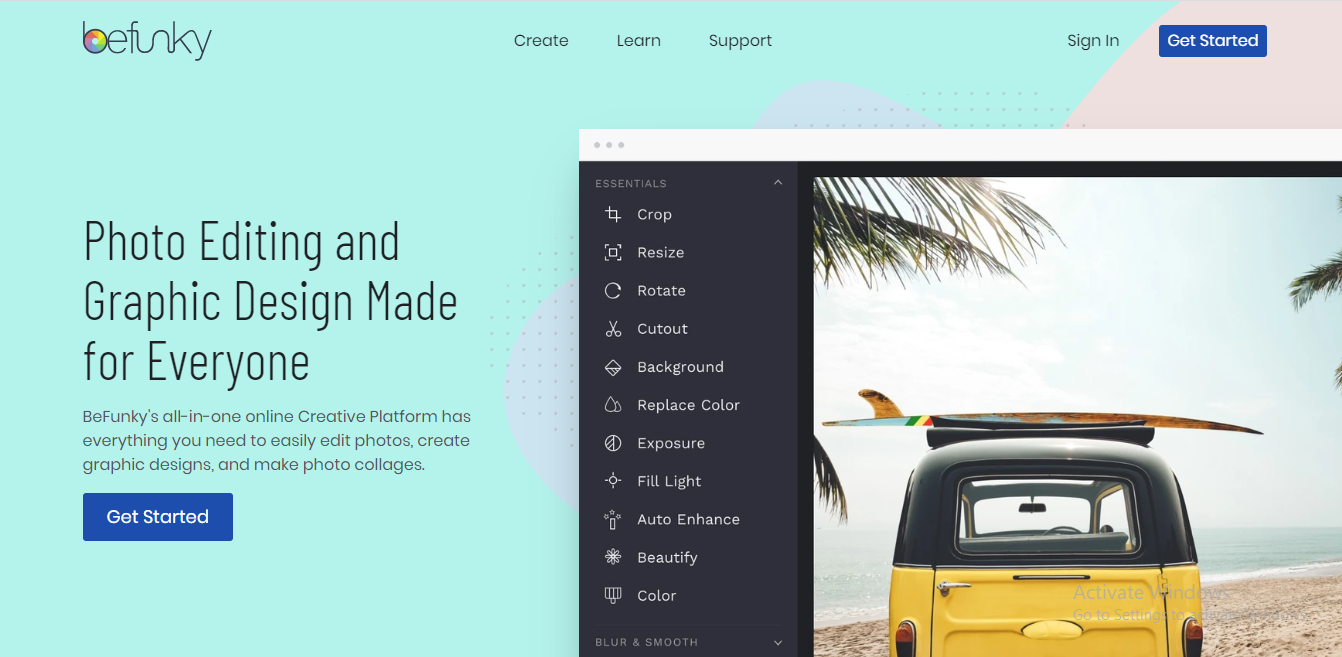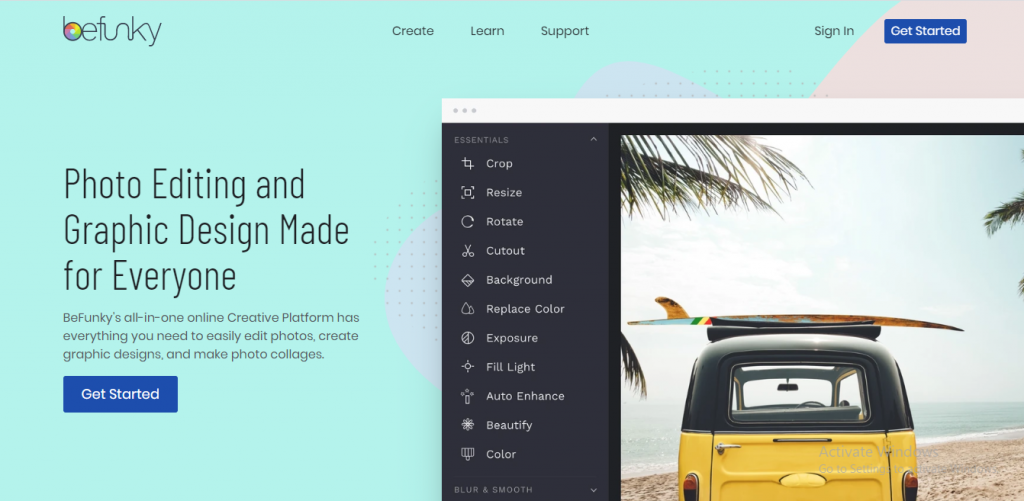 Features:
Features multiple editing options for various photos at a time
Supported with customizable vector graphics and text adding function
A large variety of free illustrations are available
Allows grouping of the layer of multiple photos
An impressive collage layout is available for uploading on social media
Supports Microsoft, iOS, Android, etc.
Pros:
Clean and well-designed and user-friendly interface
Distinct features like Cartoonizer
Collages can be shared online
Allows importing and re-importing of photos
Enables editing in full-screen mode
Easy to use
Cons:
Not suitable for extensive editing
Ad-supported
You may also like to read about: Best eBook Reader Apps For Windows
If you're looking for a unique professional-grade photo editing application, then this is the one for you. This feature-rich tool for Android enables the user to manually align the image settings like colour, vibrancy, contrast, saturation, etc. It even allows you to edit the minute details of the photo, like fixing the blemishes and whitening the teeth. This user-friendly photo editing tool also enhances the image quality, removes red-eye, offers a lot of background and frame types, etc.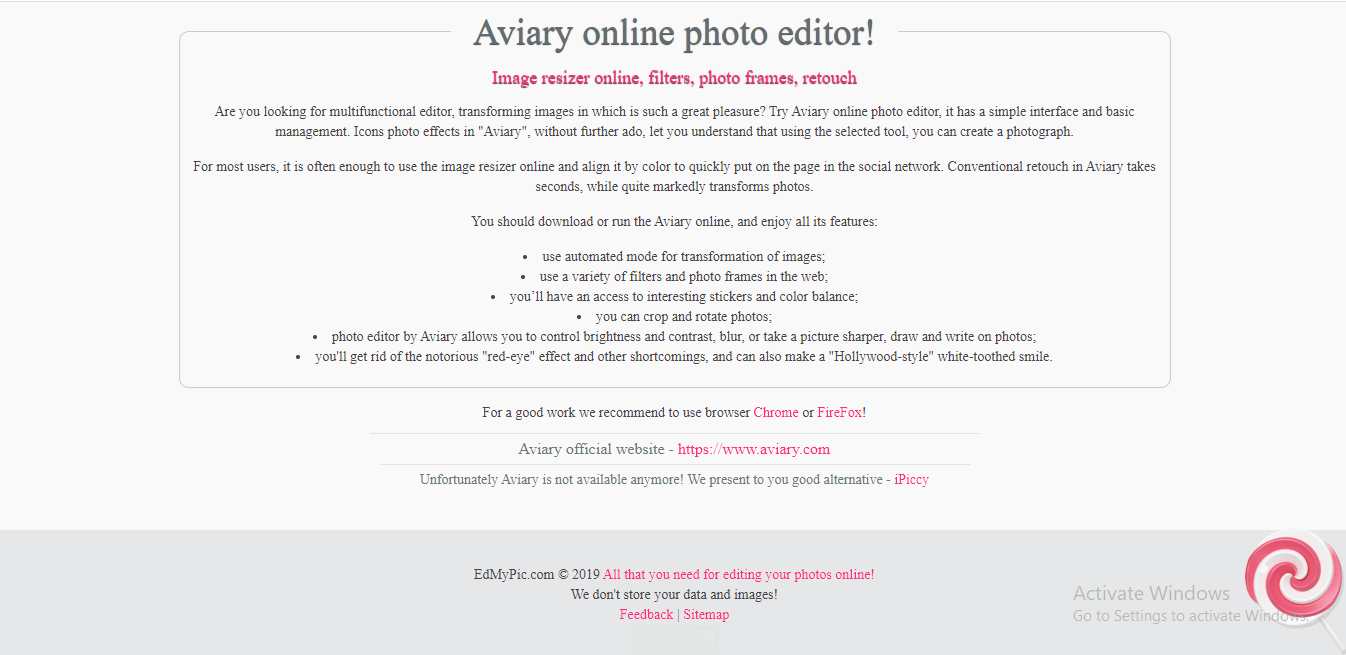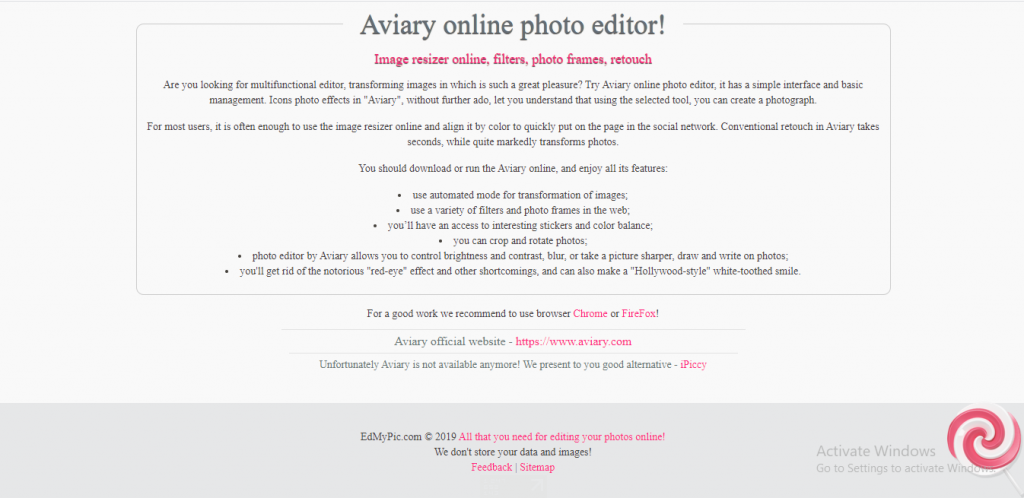 Features:
Tons of beautification and editing features
Lots of manual adjustment elements like intensity, colour, brightness, temperature
Includes funky stickers, effects, filters like removal of red-eye
Offers cosmetic editing effects like fixing blemishes, teeth-whitening
Includes text adding features in different formats
Compatible with iOS, Android, windows
Pros:
Intuitive and user-friendly interface
Easy navigation
Responsive editing function
Fast performance
Impressive colour correction tool
Cons:
Poor sticker collection
Weak photo retouching option
Some functions require a subscription
VSCO is known for its efficiency, utility, and smooth operation. There are a few photo editing effects that add a distinctive newness to your photos, as well as all the primary colour and size control elements, like contrast and saturation adjuster options. You can even apply a coloured tint to photo shadows and highlights. VSCO keeps a record of all the edited pictures together in the application so you can effortlessly have a look at them again without scrolling for them on your gadget.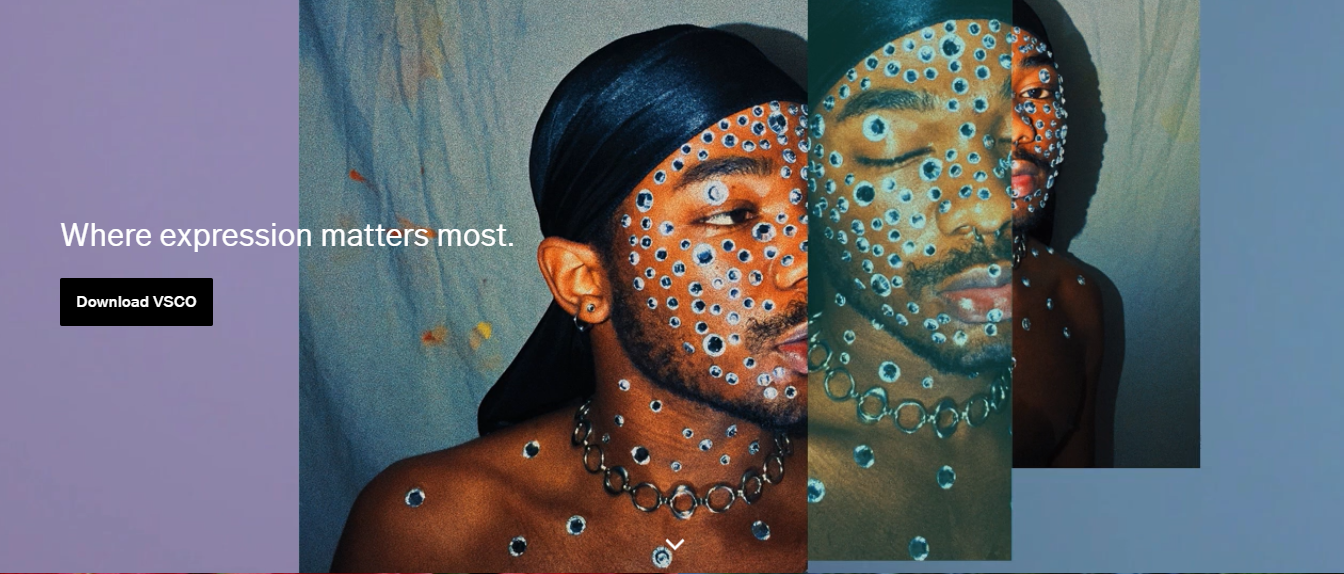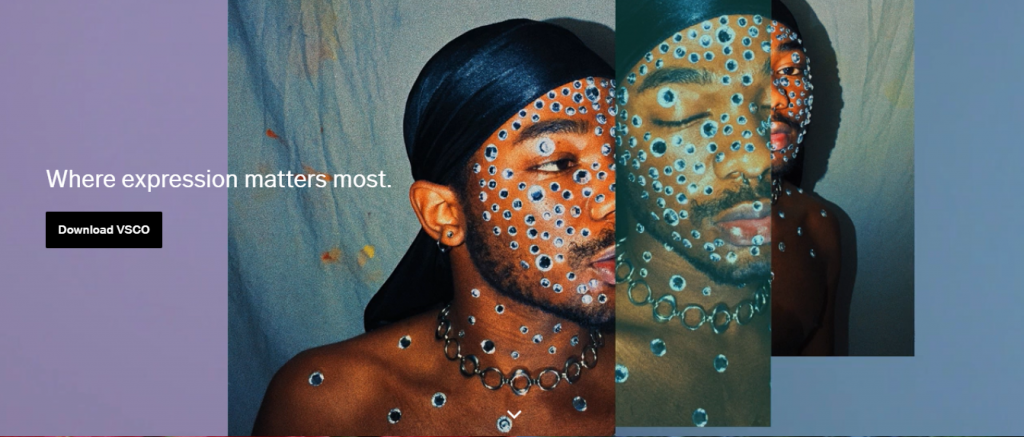 Features:
Imports and edits the RAW images
editing tools like Contrast and Saturation include texture and mimic analogue film effects
Equipped with 10 VSCO presets
Collection of editing sliders from exposure to skin tone
Automatically save the edited photos and create a collection of them
Compatible with ios, android software
Pros:
Well-designed interface
Powerful built-in social community
Tons of advanced presets
Customizable settings
Cons:
Does not offer a personal setting for images
Not suitable for beginners
Ad-supported
You may also like to read about: Best Android Emulators
PicsArt photo editor application is quite distinctive from the other photo editing tools thanks to the unique and creative features it provides. It even allows you to import the image to be edited from Google Plus, Dropbox, or PicsArt accounts. With this editing tool, you can also edit your photographs using a vast collection of brush tools with some sparkle, text brightening effect, colour adjuster function, or as simple as creating anything you can come up with.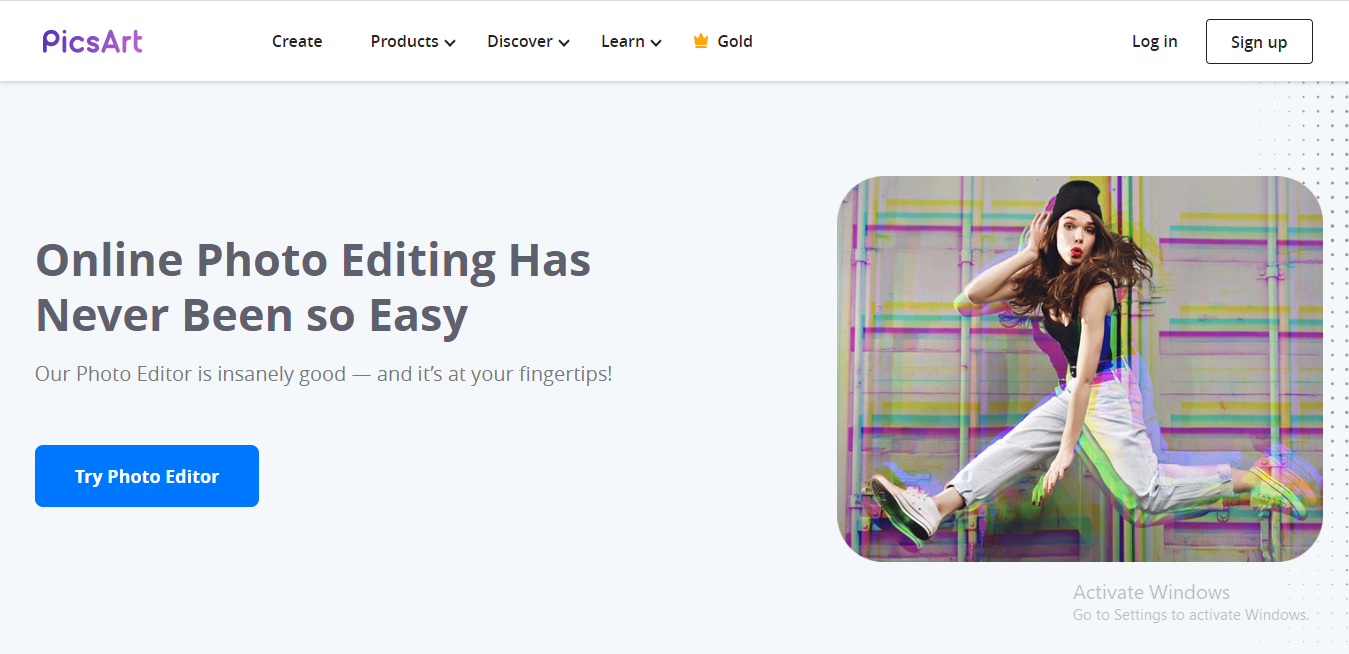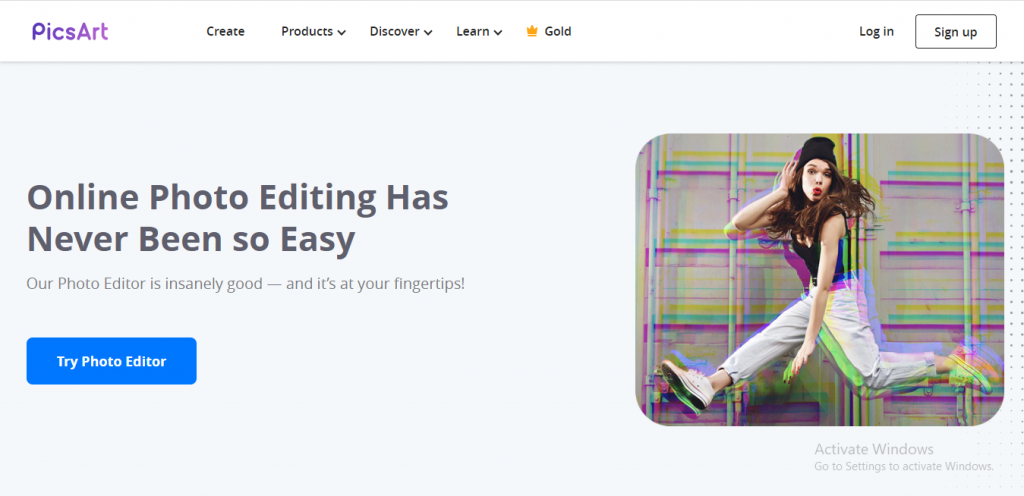 Features:
Allows the removal of any undesirable object from the image
Enables the use of zoom effect irrespective of the tool you're using
Imports photos from Google Plus, Dropbox, Flickr, Facebook, and PicsArt accounts.
Tools such as clone, curves, enhance, stretch, and crop are available
Equipped with drawing tools, brightness, border, texture, artistic masks, and lens flare effects
Compatible with ios, Android device
Pros:
Advanced functionality consists of time-lapse, collage, effects, and stickers
Powerful social interaction
Tons of innovative user control functions
Allows convenient sharing on various platforms
Cons:
Ad-supported
Some effects may not function
You may also like to read about: Best Free YouTube Downloaders
Frequently Asked Questions
1. Which is the best Android photo editing app for altering photo backgrounds?
There are many apps for editing the background of an image. Some of the best Android background changer apps that can help change the dull and inappropriate background and add a decent one that captivates the viewer's attention are Change Photo Background, Malabi, and Background Eraser and Remover.
2. Which is the best photo editing tool to blur an image?
Sometimes photos you clicked look good but some undesirable objects might be present in your photos. And you feel like blurring the images. So, some of the best apps through which you can not only blur the image but also deblur the images are Fotophire Focus, Adobe Photoshop, Microsoft Office, Photo Magic, Blurity, etc.
3. Which is the best camera app for capturing and editing images?
The best camera app for capturing and editing the images, in my opinion, is Adobe Photoshop Lightroom CC which captures the perfect shot as well as gives access to tons of editing features. The app contains a wide array of premium features, including AI-powered auto-tagging and the functionality to create edits with the help of a stylus or your finger. It provides a powerful and advanced tool for camera and editing functions.
Conclusion:
With the help of these photo editing tools, you can give a fresh and unique look to your photos. The best 7 free photo editor apps for Android listed above are different from each other in one way or another. The best photo editing application for you depends on your requirement. Since they are available for free they might be restricted with the number of features it offers or it could support ads. Overall, these photo editing applications consist of cool and responsive features, filters, and effects that can beautify your images to the next level.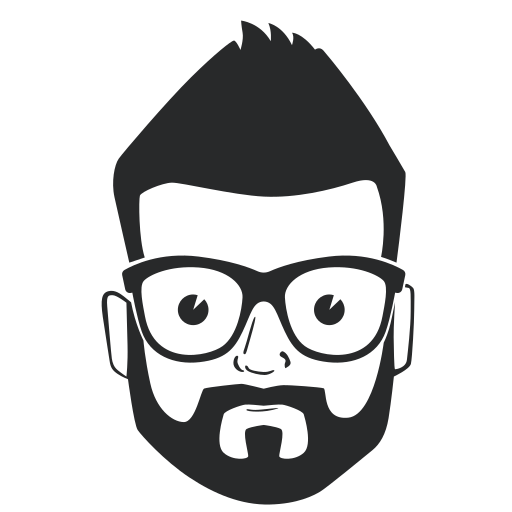 James is the editor of CellAlpha. He's a graduate and loves to write tech reviews, guides, and how-to articles. James is 24 years now.