Nowadays, most users are using the screen recorders for capturing their screen display, be that for gaming purposes, creating educational content or anything. With a screen recorder, you can capture whatever you want in just a few clicks. So, if you're unable to decide which screen recorder application you should install on your Windows, in that case, we might help you out. We have compiled a list of the best free screen recorder apps or Windows, which, in our opinion, would suitably fit your needs.
You may also like to read about: IMO for PC- Download Latest PC version without BlueStacks.
Best Free Screen Recorder Apps for Windows
This is the most powerful free screen recording application and streaming tool available for gamers, with everything you need to accomplish professional objectives. It might take some time to understand its interface, but the results will be fruitful. OBS Studio is not just a screen recorder, and streaming software video editor, but one of the leading tools available for sharing what's happening on your screen with viewers around the world. It allows you to work with these different sources, mix between them, and make one consistent broadcast.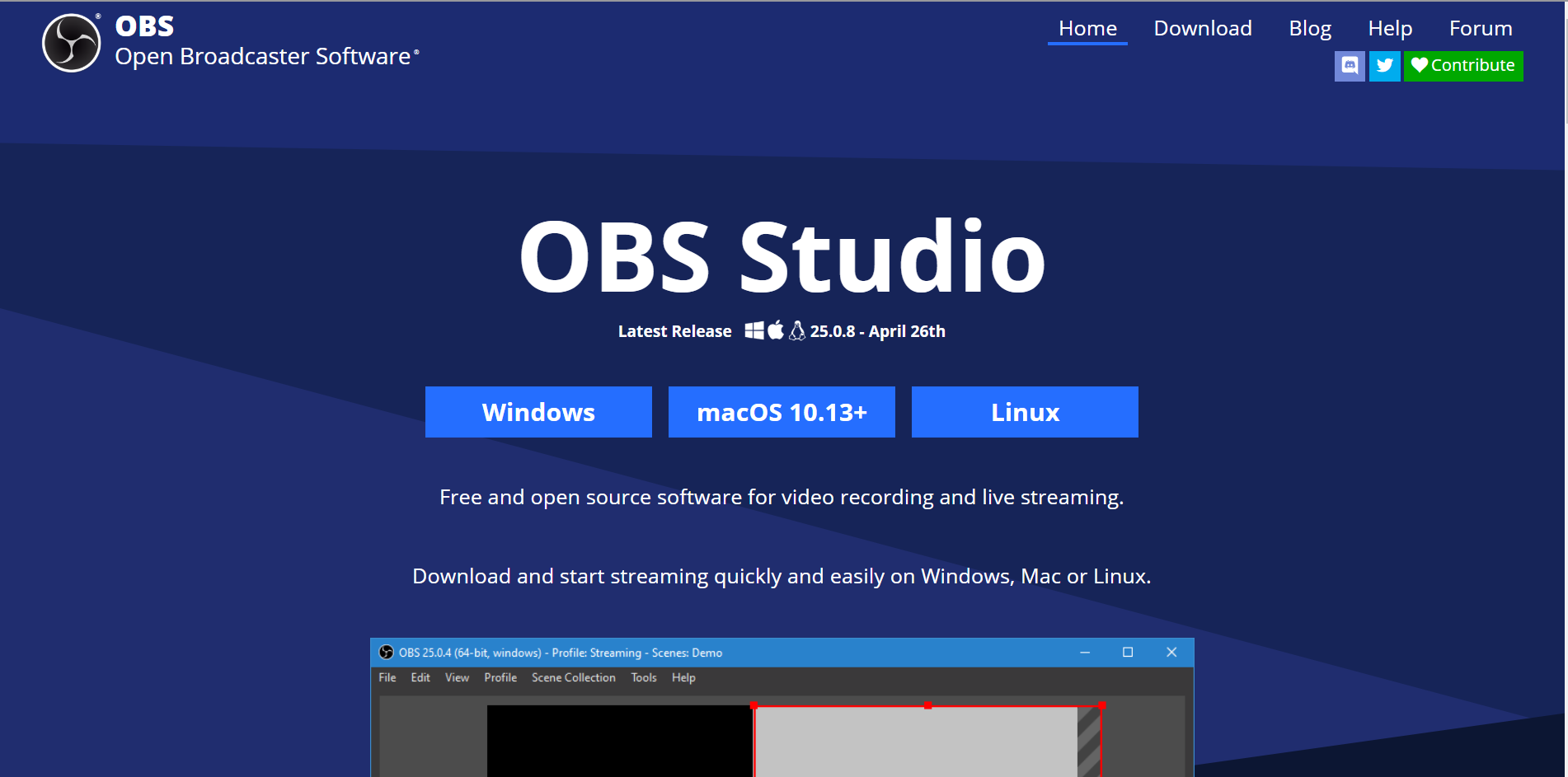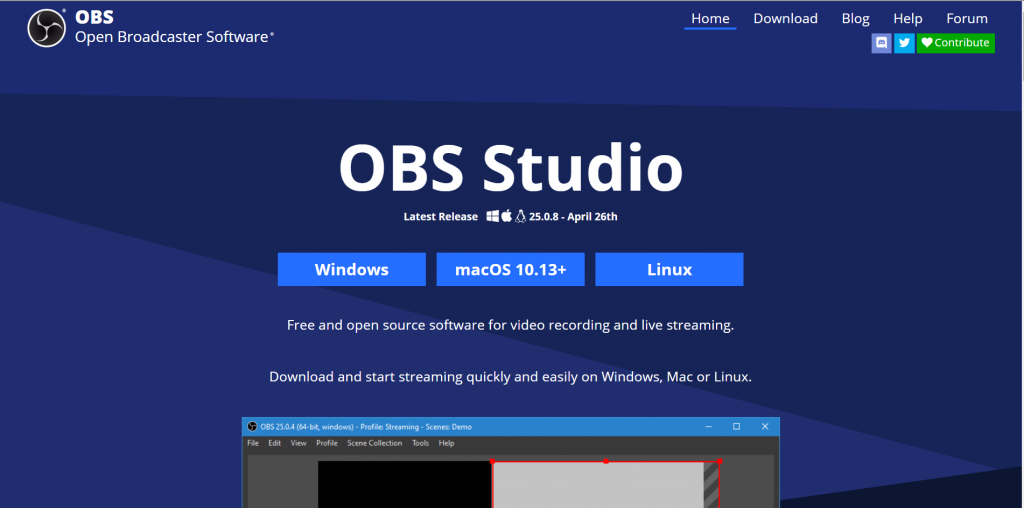 Feature:
Allows live-streaming apart from screen mirroring
Customizable configuration feature
Streamlined setting option
A wide array of themes
Real-time audio/video recording
Offers diverse video source filters
Pros:
Allows full-screen recording on windows with the help of a webcam, and microphone.
Enables streaming options on various platforms like Twitch, YouTube, Mixer, DailyMotion, etc.
Add multiple filters to scenes, sources, and audio devices.
Availability of image mixing, cropping, colour correction, green screen, audio normalization, etc.
Intuitive and well-functioning audio mixer
Free of watermark
No time-bound.
Non-intrusive elements like advertisements
Cons:
Non-availability of pause function for recording.
Does not support an in-built video editor.
Cumbersome functionality for beginners
Express is another full-motion based free screen recorder from the distinctively named Blueberry Computer program. It's an extraordinary application for capturing recordings from your desktop and is also equipped with tons of editing features to enhance the recordings. It comes with no watermarks stamp on your recordings, and also allows unlimited time duration for recordings. It even facilitates screen capturing together with a webcam and built-in editing features, which allows additional elements such as captions, signalling arrows, pictures, and highlights.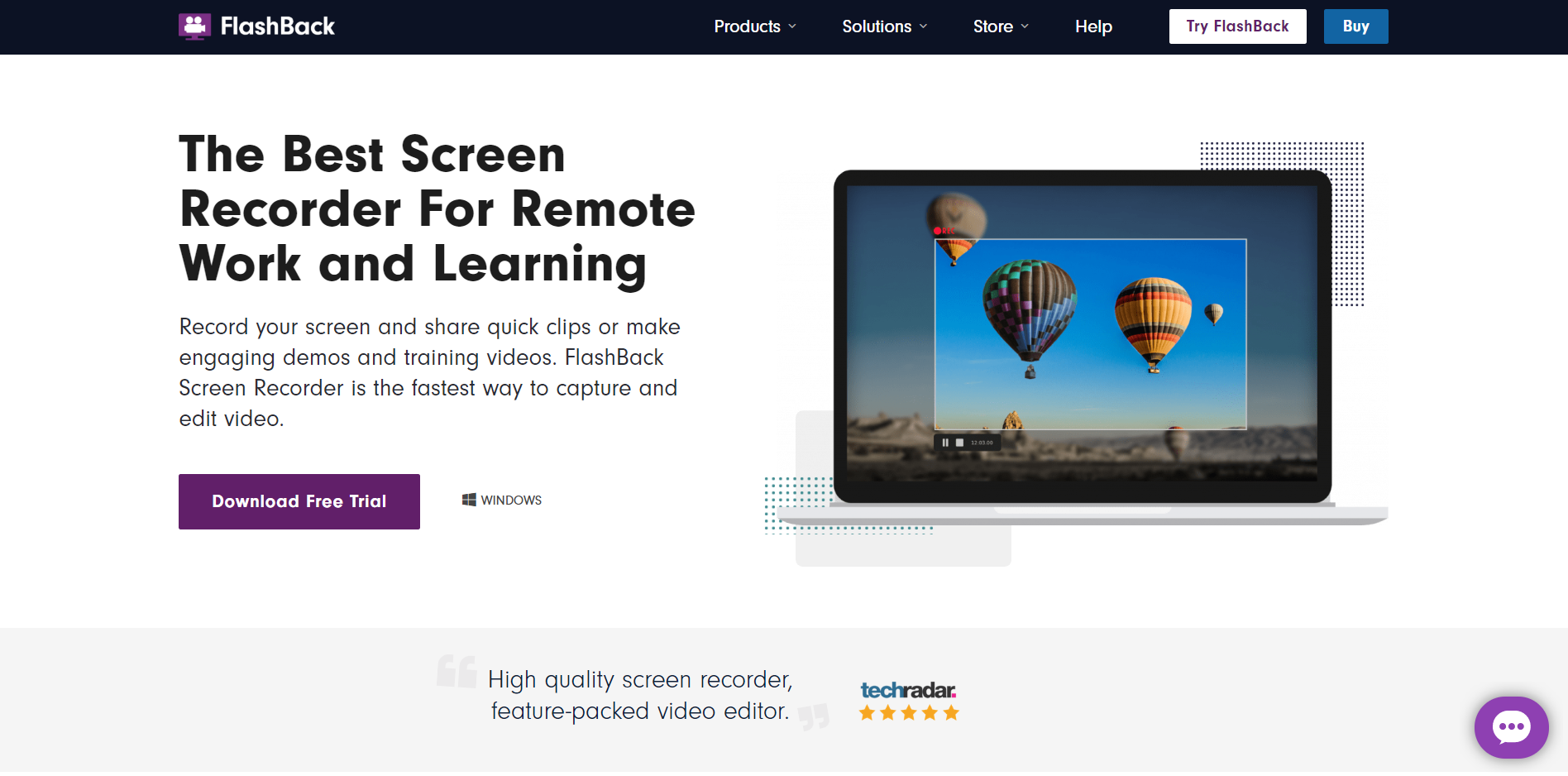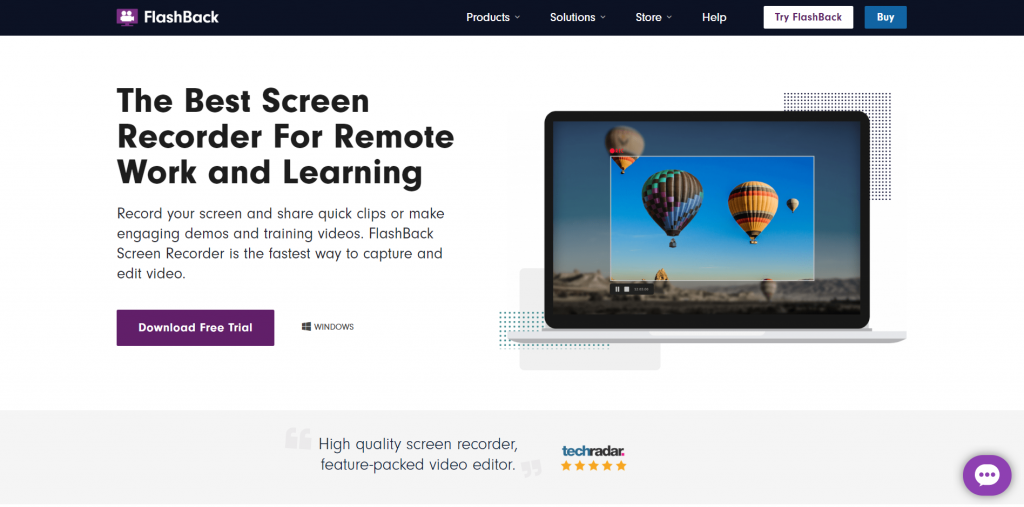 Features:
It can capture the PC screen instantly and turns it into a video file.
Additional elements like notes, images, and sounds to make it look professional.
Allows recordings to be uploaded on YouTube.
Allows inclusion of a custom watermark to your video.
Enables multiple device operation
Provides frame editing and audio editing features
Contains annotation function
Pros:
Excellent full-screen recording with the help of a webcam and microphone
Seamless multiple monitors operation
Timely scheduled recordings
Customizable cursor highlighting
No watermark, ad-free
No time restriction
Cons
Not allowed to record webcam alone.
Restricted video output formats-MP4, AVI, WMV
Does not provide a built-in video editor
You may also like to read about: 7 Best Free Photo Editor Apps For Windows
Screencast-O-Matic is a web-based screencasting program that works really well owing to its well-designed interface. This application offers a great number of features, including screen recording, video altering, and video facilitating and sharing. In just a few minutes, you can effectively record your screen or webcam, import your own recordings and mix clips. Screencast-O-Matic's natural video editor improves the video quality excellently. It even adds animations and fluid transitions to the footage.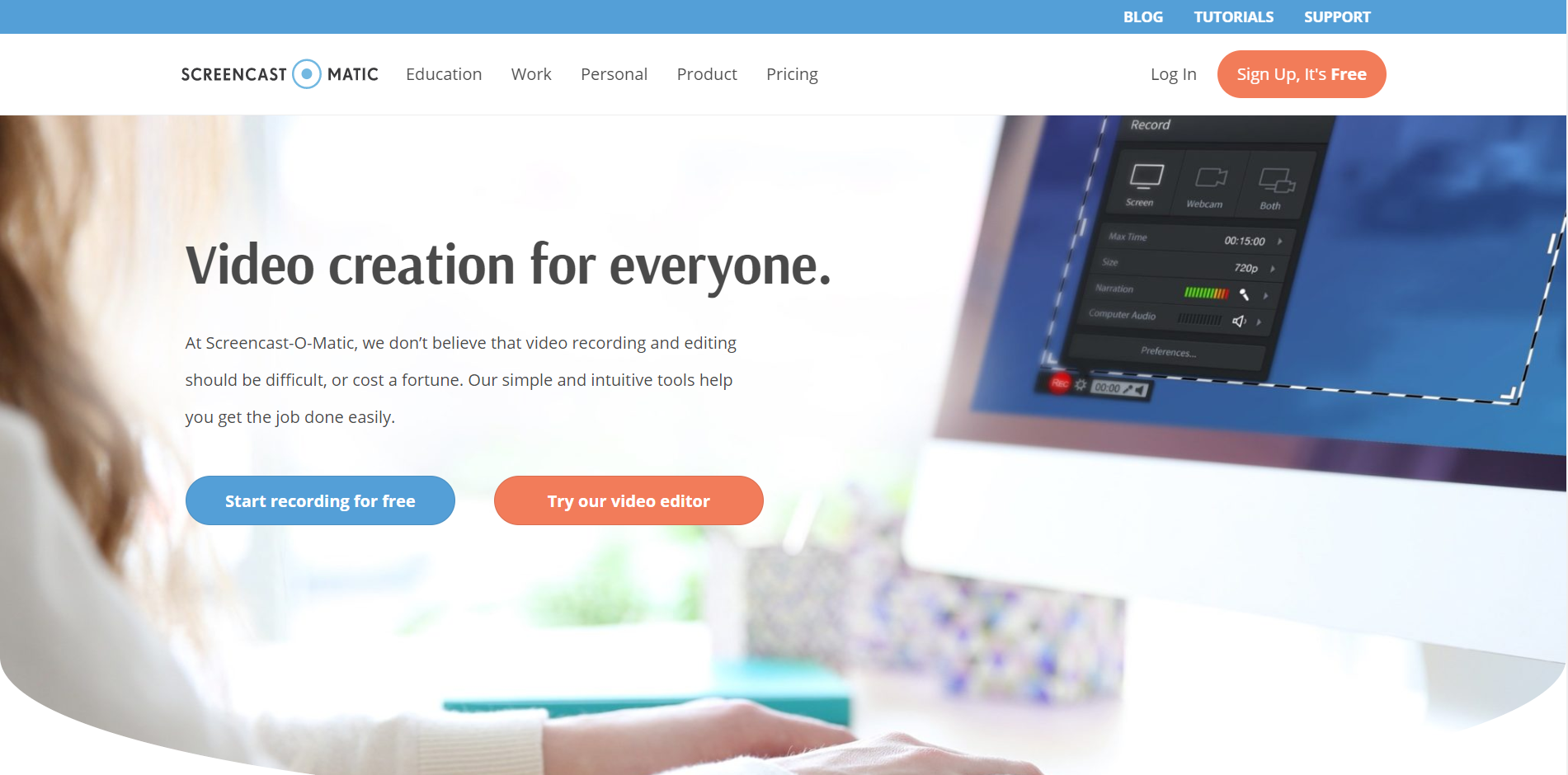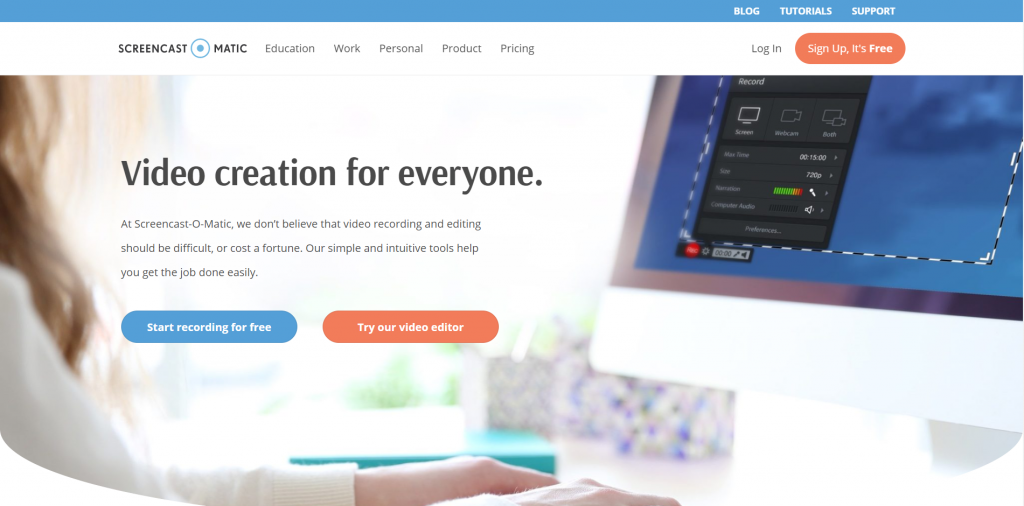 Features:
Allows full video capture
Facilitates video editing and annotations with markup tools and image editing tools
Extract text from the recordings
Allows conversion into audio files or GIF files
Robust sharing and uploading options
Enables easy platform searching for saved recordings
Pros:
It offers drawing, text adding and zooming features.
Powerful scripted recordings and screencast
Provides custom captioning and automated speech-to-text captioning features
Video editing features include various options like Video-trimming, cutting, changing speed, multimedia, green-screen effect, etc.
Allows video uploading on YouTube, Vimeo, and other platforms.
Password protected enabled videos
Cons:
Most of the impressive features are available only in the paid version.
Read More – 7 Best Free Photo Editor Apps For Windows
TinyTake by MangoApps is a vigorous and straightforward screen recording, video recording, and annotation program for both Windows and Mac. It enables you to capture the entire screen or just a portion of it and annotate it once you are done. This way, it saves your time by being a one-stop solution for editing and including other significant features. This screen recorder makes sharing of the recorded screens and recorded videos simple. You can even use it for directly uploading on various platforms.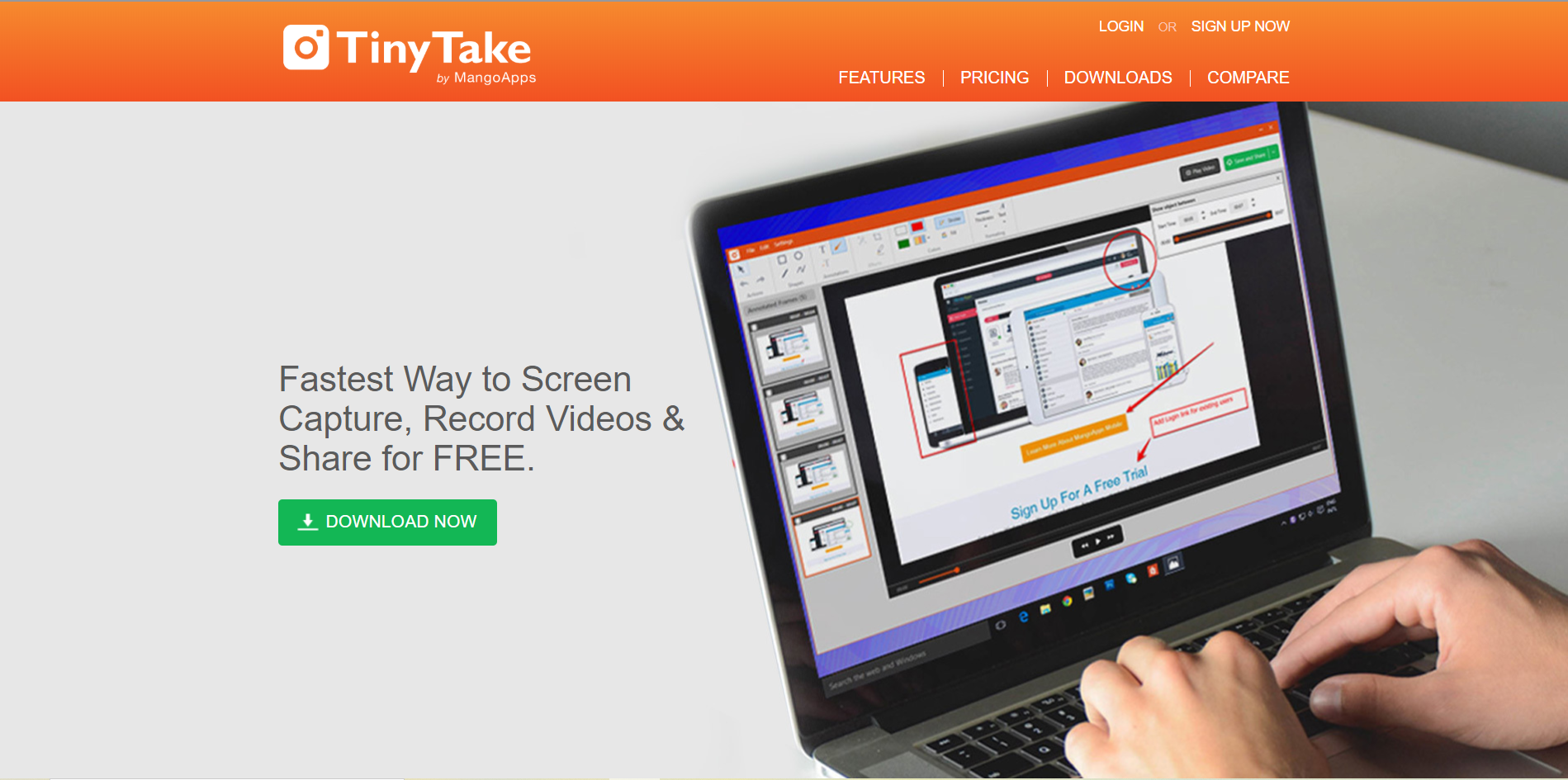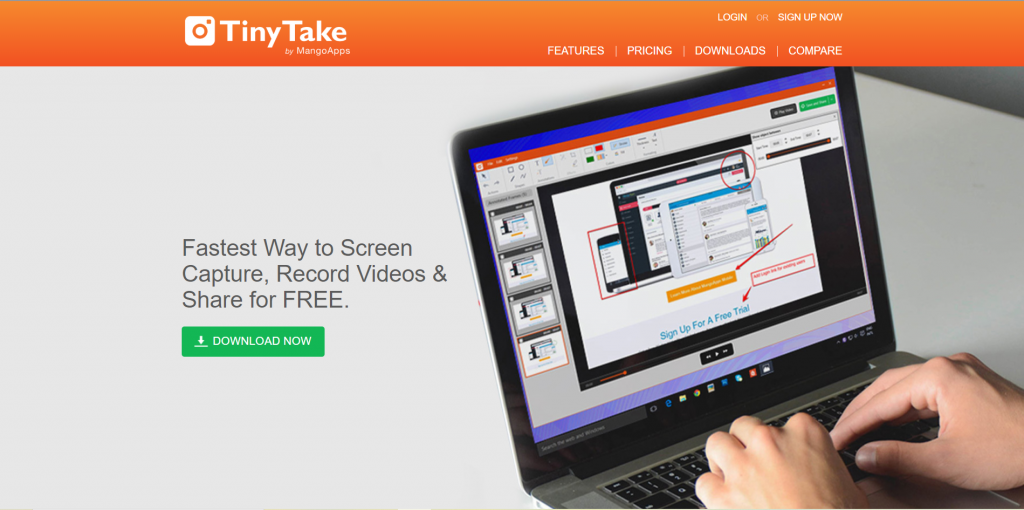 Features:
Facilitates the use of custom shortcut keys.
Records video of the desired screen for more than 120 minutes.
Recorded videos can be stored in the cloud.
Zooming in or zooming out feature
Proxy server friendly
Shareable videos on all the major platforms
Pros:
Supports sharing of bulk file
Provides public URL for uploading
Offers an in-built file viewer for images, videos, and documents
Video player is highly compatible with other devices
Cons:
The free version offers only 5-minute length for video recording
Video files can be saved as MP4 only
Limited editing options available
Camtasia is a feature-packed application designed for meticulous users. It permits you to record video and sound repeatedly and mix the recorded video afterwards. It is very adaptable in terms of creating animations and video impacts and including overlays. It even involves recreational activities like making and adding quizzes. Users can utilize this computer program to make fantastic video tutorials, video lessons, YouTube recordings, demo recordings, etc. It is used to record and create a professional video, and recordings on Windows and Mac.
Features:
Allows recording with webcam and screen, and presentation.
Provides access to music and audio library.
Ability to add creative titles and annotations.
Enables Zooming, pan, and animation options.
Allows transitions between scenes and slides
Additional features include quiz-making.
Provides various effects and filters
Pros:
Excellent recording with a webcam
Allows editing of audio, video, and cursor tracks separately.
Imports existing videos, music, photos, and Presentation slides
Allows inclusion of additional captions, callouts, and quizzes
Multiple editing options
Offers a library of royalty-free music and sound effects
Cons:
Relatively expensive
Might turn out sluggish on large and heavy projects
The multi-screen recording is not that effective
You may also like to read about: Best eBook Reader Apps For Windows in 2020
Apowersoft screen recorder is a free feature-rich screen recorder application that comes with no time restriction or unwanted watermarks. What makes it exceptional is the fact that it runs smoothly on the web browser. It also produces a two-screen recorder. The cog-shaped Setting option provides a wide variety of choices. With this, you'll be able to customize keymapping or shortcuts, cursor highlighting, frame rates, etc.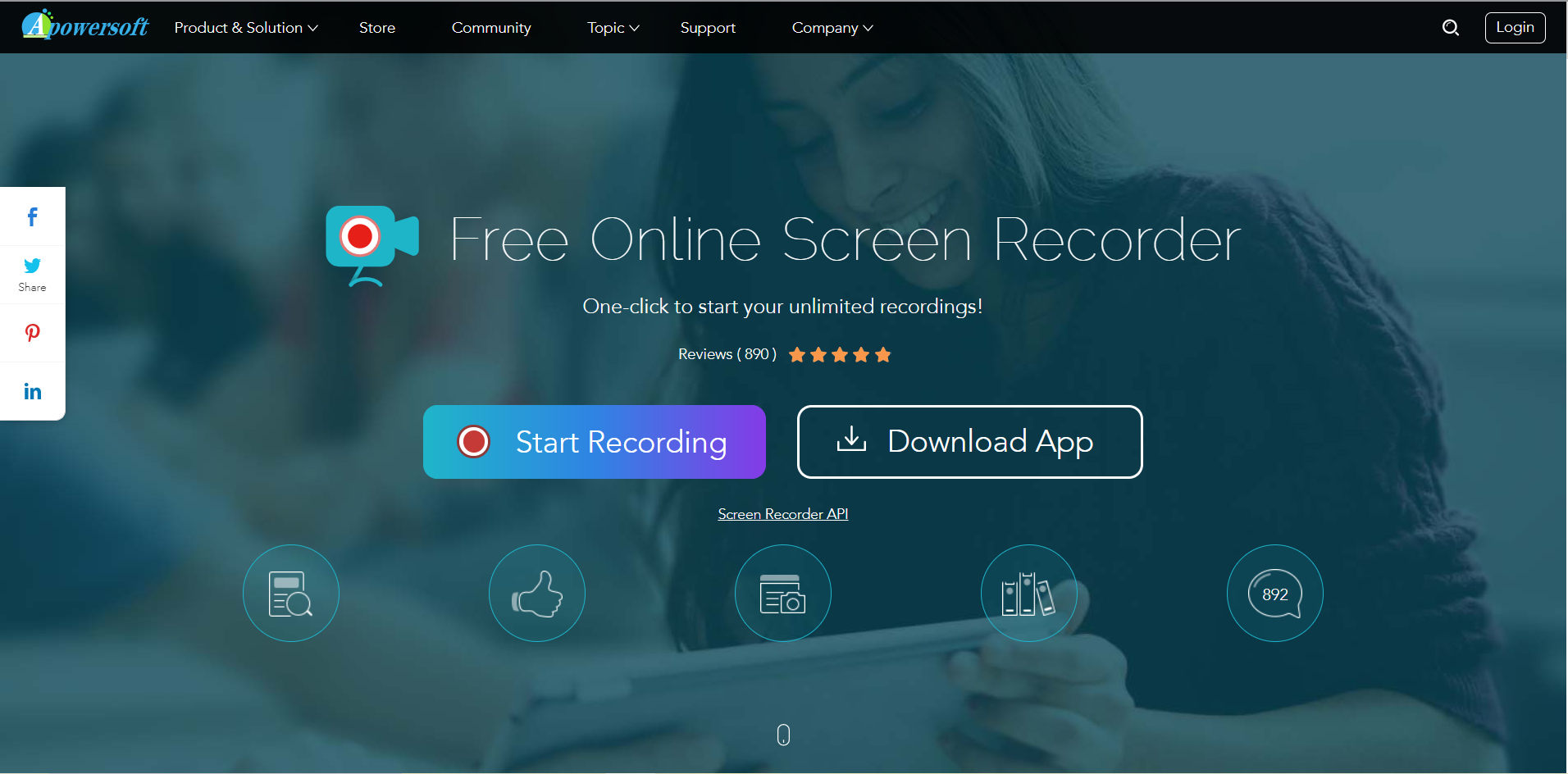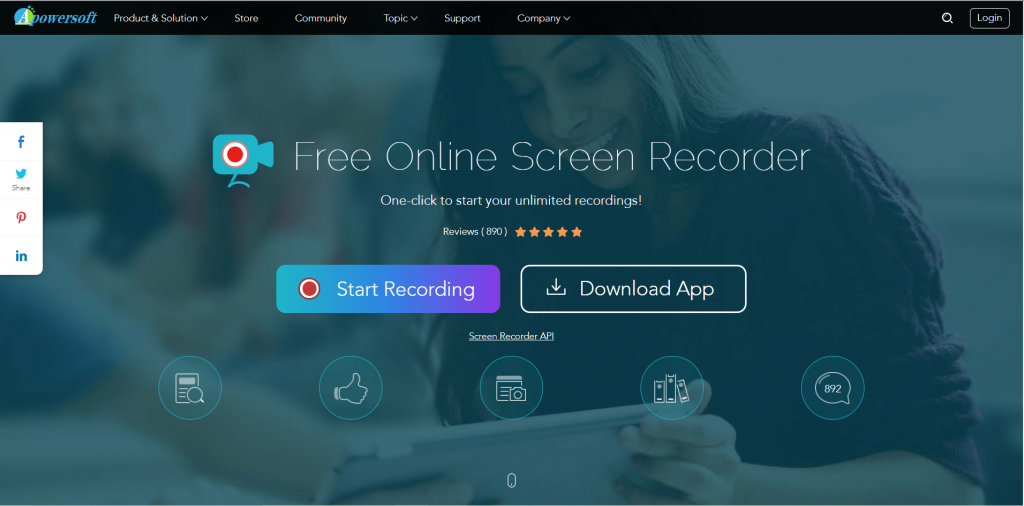 Features:
Convenient and intelligent control panel
Provides a wide range of recording modes
Supports HD video recording with audio
Allows the use of annotation and text to the video while recording
Provides two automatic task recording tools- Task Scheduler and Follow the recording
Pros:
Intuitive and flexible interface
Tons of editing tools are available
Allows real-time recording
Versatile screen recording option
Enables access to multiple video uploading platforms including YouTube and FTP
Easy navigation
Cons:
No SnagIt's file-management tools.
Can't capture recordings on a secondary device
Icecream Screen Recorder application is an excellent choice in case you're looking for an application that has easy to use navigation and simple editing tools. It is available in two versions: free and paid. The free form restricts you to only 5 minutes of recording time with only one output video design (WEBM) and video codec (VP8). It is an easy-to-use and intuitively screen recording tool that allows you to record your Windows PC screen as a video or a screenshot, which can be published on various platforms.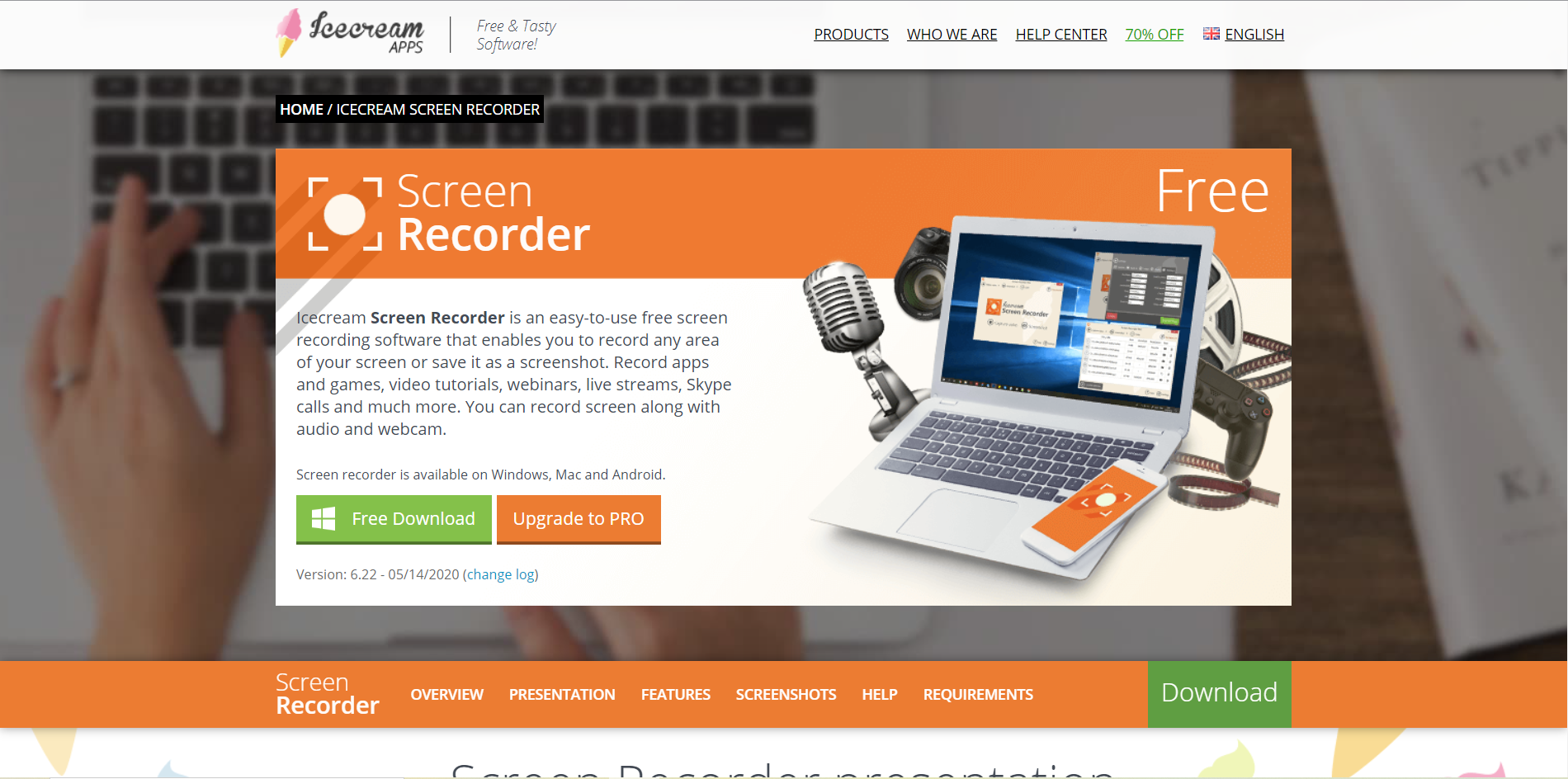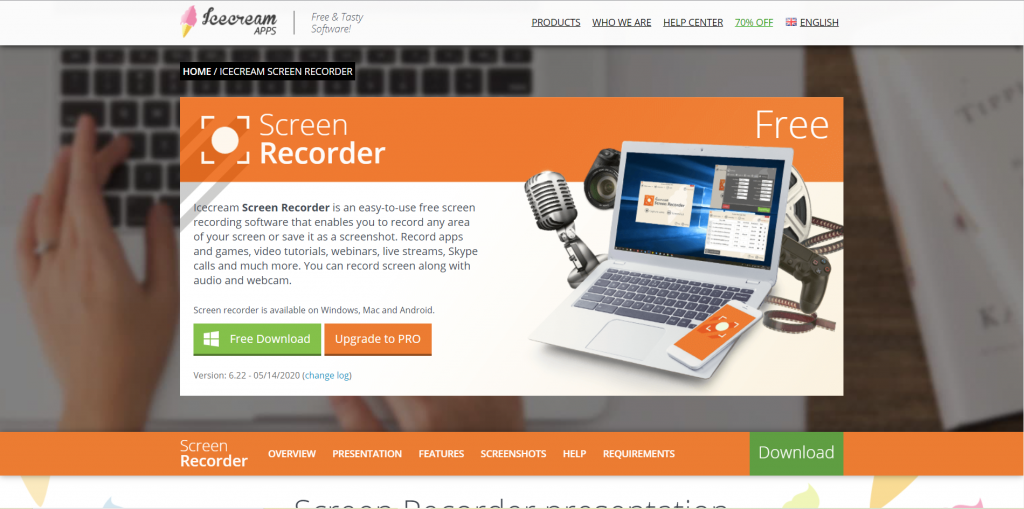 Features:
Records full-screen video
Customizable settings
Available in various frame rate
Provides with video converter
Provides zoom in a tool for use when recording
Offers scheduled recording feature
Facilitates screenshot saving
Pros:
Records full screen, webcam, microphone, and computer sound.
Conceal cursor or desktop icons at the time of recording.
Availability of draw and zoom in tool.
Ability to add a logo to the screen recordings.
Easy to use video trimming feature
Cons:
Doesn't support recording the webcam alone
Limited video editing features on the free version
You may also like to read about: Best Android Emulators in 2020
Frequently Asked Questions
1. What are the features of a good screen recording application?
Screen recording applications simplify our daily task of making gaming or educational videos. The following features characterize a good screen recording application-
The capacity to record your entire screen, one window, or a particular region, webcam
The alternative is to superimpose a webcam function over the recordings
Simultaneous microphone and system sound recording functionality
In-built video sharing or helpful exporting tools An intuitive interface
2. How to record screen on Windows 10?
Windows 10 version comes with an in-built screen recording application. The application is mainly designed for the gaming enthusiast and the shareable video maker. So, the following steps must be followed to record the screen on your device-
Search the application on the game bar
There's a built-in screen recorder in Windows 10; you'll be able to find it within the "Game bar" application. You can either look for it in the start menu or press Windows + g
Then an option for screen recording will appear.
After clicking the record button, press it to start the recording
If you press the ESC button or Windows+g again, the
windows screen will disappear but the recorder will continue further
After recording the desired screen, use the shortcut key – Windows alt+ r
The desired screen will be recorded.
3. Can I take a screenshot while recording a screen?
Yes, one may take a screenshot while recording the screen by simply clicking the screenshot button, or you may even use the shortcut key Win + Alt + Prtscrn.
Conclusion
With the help of the above-mentioned best free screen recorders app, one can explore a wide array of powerful and efficient tools apart from better screen recording functions. The best free screen recorder apps for Windows mentioned above also provide an exceptional experience in recording screen with tons of editing and customizable options. However, since all of them are available for free, they do not give access to unlimited features to enhance the video recordings. Especially for the gaming enthusiast, these well-performing screen recording applications must be tried at least once.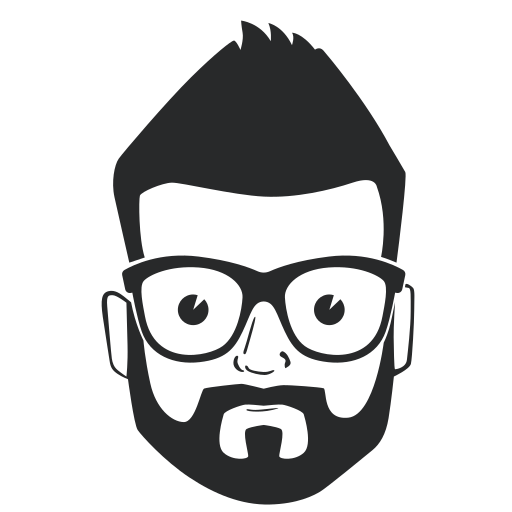 James is the editor of CellAlpha. He's a graduate and loves to write tech reviews, guides, and how-to articles. James is 24 years now.